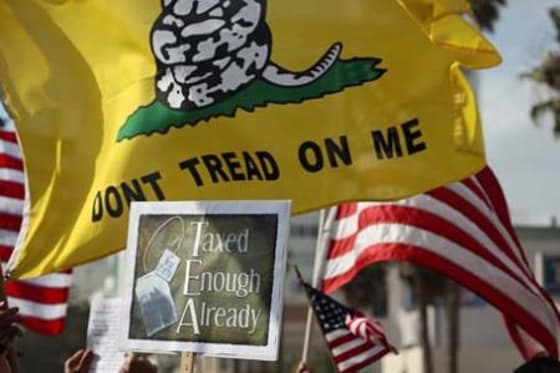 As the California GOP's fall convention is set to take place this weekend in Los Angeles, a Field Poll study finds big differences in the state's Republican voter preferences for President based on how much these voters identify with the Tea Party.
California Republican voters who identify a lot with the movement prefer Texas Governor Rick Perry over former Massachusetts Governor Mitt Romney by 33% to 23%. Romney, on the other hand, leads Perry by ten points among Republicans who identify only somewhat with the Tea Party and by 13 points among those who don't identify with the movement at all.
From what Field found in its survey, Tea Party-affiliated Republicans exert a sizable force over fellow Republicans in the state who don't identify with the movement at all.  A combined 61% of California's Republicans associate themselves in some way with the grassroots effort.  Slightly more than one in five (22%) of the Golden State's Republicans say that they identify a lot with the Tea Party while another 39% identify somewhat with it.  39% of California Republicans don't identify with the Tea Party at all.  California Republican Party leaders will in all likelihood get a taste of the Tea Party's influence at their convention which begins today and runs into the weekend.
Interesting to note, the Field Poll indicates that California's Tea Party-affiliated Republican voters place Texas Congressman Ron Paul in fourth place behind former Alaska Governor Sarah Palin (who hasn't announced her candidacy). Congressman Paul gets a combined 10% support from those affiliated a lot and somewhat with the Tea Party. Meanwhile, former Governor Palin gets a combined 15% support from those claiming to be a part of the movement in some way.
Regarding sentiment surrounding the current Republican candidates vying to challenge President Barack Obama in 2012, Field notes that California Republicans identifying with the Tea Party show a greater satisfaction with them as a whole than those who don't identify with the movement. In the survey, a significant majority of Republicans who identify with the Tea Party (87%) said that they were very or somewhat satisfied with the GOP candidate field. Meanwhile, satisfaction with the GOP field declines to fewer than half (49%) among Republicans who do not identify with the movement at all.
The state's Republican electorate as a whole gives positive image ratings to both Romney (54%) as well as to Perry (50%). Only 27% of California's Republican voters have a negative view of Romney and only 19% share such a view of Perry. California Republicans have a more negative view than positive one of former Governor Sarah Palin, Congressman Ron Paul, and former Speaker of the House Newt Gingrich. Furthermore Republican voters have mixed feelings about Minnesota Congresswoman Michele Bachmann and have no opinion about the rest of the current field.
With none of the candidates in the current Republican field projected to fare well against President Obama in the 2012 election here in California, even among non-partisan voters, this weekend's GOP convention, from my standpoint, seems to be more about learning just how much the Tea Party is shaping the Republican Party's future in California.  If anything, the three day convention is the Tea Party's moment to shine, proving its independence from partisan politics by challenging the Republican establishment to get things done.