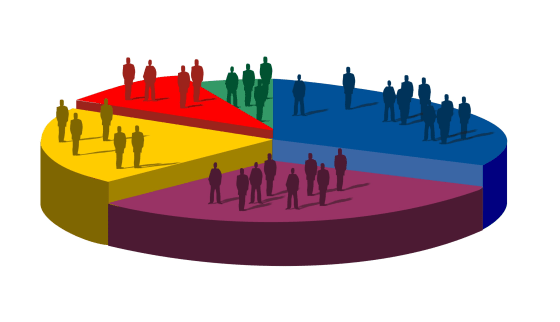 While a majority of Californians are of the opinion that the nation is headed in the wrong direction, a recent study from the Public Policy Institute of California (PPIC) indicates that overall statewide voter registration has increased, with likely voters tending to lean conservative.
     "As of February 2011, voter registration is at 72.8% with 17.2 million of the 23.6 million eligible voters registered to vote. Forty-four percent are registered as Democrats, 30.9% as Republicans, 20.4% as decline-to-state or Independents, and 4.7% as other parties," the study said.
The PPIC goes on to note that since 2007, which was the last odd-numbered year before a presidential election, the percentage of eligible voters who have registered has grown from 68.9% to 72.8%. Since 2007, Democrats have grown from 42.5% to 44%. Independents have grown from 18.8% to 20.4%. Republican registration in the state has decreased from 34.2% to 30.9%.
From what the PPIC indicates in its data, however, there's a different story to be told about California's likely voters. 40% say that they are conservative, compared to 32% with liberal leanings and 29% who say that they are middle-of-the-road. Among infrequent voters, a plurality of them lean conservative with 36% identifying themselves as such. Following close behind, at 33%, are middle-of-the-road voters. And trailing in the pack of infrequent voters, at 31%, are voters who identify themselves as liberal.
So, even though the state as a whole may strongly lean Democratic, likely voters tend to be conservative while unregistered adults tend to lean toward the Democratic Party. Out of all three ideologically aligned voter identifications, the highest number of unregistered voters, at 47%, lean Democratic, while 19% of unregistered voters lean Republican. Los Angeles in particular has a high percentage of unregistered adults.
There are also those likely voters who are unaccounted for when it comes to finding a political party to call home. 34% of likely voters do not lean toward a political party or don't know which one suits them. 
PPIC's study takes into account the fact that although non-Hispanic whites comprise only 44% of California's adult population, they actually make up a solid majority (65%) of the state's likely voters. Since 2007, the percentage of white likely white voters has decreased, while the proportion of likely Hispanic voters has risen slightly. Likely voters from the Asian population have increased slightly as well.
As for demographics, likely voters tend to be older, more educated, and more affluent. PPIC says that they own their own homes and were born in the U.S.
These findings demonstrate just how much California's political environment has changed in the past few years. More voters appear willing to participate in the political process, which is in all likelihood a response to seeing little to no change in the resolution of California's myriad problems.
This recent study from the Public Policy Institute of California was conducted of at least 2,000 state residents and encompassed all the state's regions. They were conducted at random by both landline and cell phones. It had a +/- 3 point margin of error and a 95% confidence level. When it came to defining likely voters, PPIC defined them as those who were consistently active in following the news and participating in elections. More on the study's methodology can be found here.