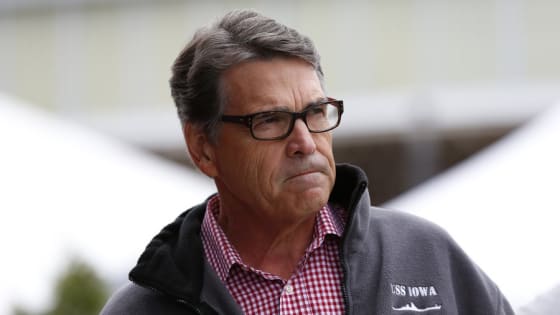 The Republican presidential candidate who has made himself look more like Billy Graham than Barry Goldwater has taken a substantive lead in the polls as reported in recent days by Zogby, Quinnipiac, Rasmussen and Gallup.  The momentum appears to be going the Texas governor's way, at least in this early stage.

In the latest Gallup Poll, Perry leaped over Mitt Romney to take a commanding 12 point lead and garner 29 percent of the vote.  He eclipsed solid performer Ron Paul by 16 points and left Michelle Bachmann and the rest of the Republican field in the dust.

Perry unofficially began his public pursuit of the nomination with a non-political religious event, The Response, August 6th in Houston.  This super-revival put him clearly in the sites of the religious-right voters.  Since announcing, Perry has sometimes sounded more like a right-wing talk show host than a serious candidate, calling Social Security a ponzi scheme, for example.  But he has also taken the lead on forward-looking positions such as support for the Amachi program to break the cycle of cross-generational incarceration. 

There is no question that Perry has enough charisma to win.  He has defeated popular candidates in Texas, including Kay Bailey Hutchinson, the former Senator, who lost to him in the 2010 Republican Gubernatorial primary.  He has the bearing and good looks of Mitt Romney, but comes across as much more of a natural.
Perry's biggest challenge comes now, in the post-Labor Day flurry of GOP presidential debates.  Five of those debates will take place between September 7th and October 18th, and are bound to test the mettle of all the candidates.  For Perry, it will be a proving ground for his talent as a contender.  Questions that have been raised about his intelligence, his fitness to lead and his ability to attract center-right Independents as well as the Republican base could all be resolved in one or two heated moments under the lights, and he could either enhance his lead, or lose it. 

It is telling about Perry that when faced with demands from Mexican President Vincente Fox that he back down from executing a Mexican citizen for the murder of a Dallas narcotics officer, the governor went ahead with the execution.  Rick Perry doesn't back down. 

This should be one heck of a series of debates.
Debate Schedule:
September 7, 5 p.m. PST, MSNBC, CNBC
September 12, 5 p.m. PST, CNN
September 22, TBD, Fox News
October 11, TBD, Bloomberg Television
October 18, TBD, CNN