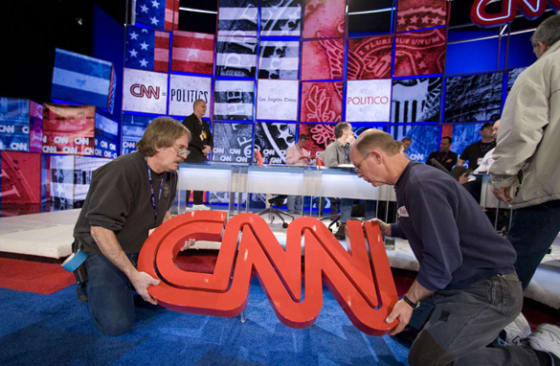 As the first CNN GOP presidential debate approached and unfolded last night, the network's exclusion of Gov. Gary Johnson was brought to light by two rival networks known more for their boisterous partisanship than for giving voice to such "lesser-known" candidates.
In making the rounds at both Fox and MSNBC, Johnson was given free reign to discuss his own take on the issues tackled by many of his GOP colleagues.  In a theatrical fashion typical of the conservative network, Fox News' John Stossel featured Johnson in a mock presidential debate against a President Barack Obama impersonator. Tackling ObamaCare, Johnson stated his alternative to the President's plan by stressing the need spend a whole lot less and get the federal budget under control.
     "Medicare is going to completely engulf the federal budget here in a very short amount of time if we don't bring it under control," Johnson said in response to the mock President's character.
Johnson also defended his stance to slash entitlement spending by as much as 43% to avoid a monetary collapse and to make the United States a business-friendly nation by eliminating the corporate income tax altogether. From a foreign policy standpoint, he decried military intervention in Libya. And on the economy, Johnson touted his stance to let the free market rule because it allows for recovery to take place much more quickly.
In a much more formal fashion, MSNBC's Dylan Ratigan, in a segment appropriately entitled "Playing Favorites", gave Gov. Johnson the floor to tout his platform as well. Ratigan pointed out that Johnson's numbers, now at around 2% according to polls selected as criteria for an invitation to last night's CNN debate, were around the same range as former Presidents Bill Cinton and Jimmy Carter at this point in the race.
Besides touting his libertarian stance, especially in the arenas of the government spending and individual liberties, the former governor used his time to rail against the system that excluded him.
     "I'm arguing I would be saying things differently than everybody else on that stage tonight. The biggest issue facing this country is the fact that we're on the verge of a financial collapse," Johnson said.  "If I were saying the same things as everyone else that would be a different story as well." [...] "My entire life I've believed in the system and the system to me is cracking the door open a bit, and giving you a chance, and, hey, the door shut, it's locked. I got screwed," Johnson said of CNN's decision.
The best revenge against the system set up by CNN to exclude him would be to go out, put forth his message, and be successful, he said. Out of last night's debate participants, Congressman Ron Paul is the only known participant who has come to Johnson's defense, saying that he should have been allowed to partake in the conversation.
     "He should be there. He's been a governor for two terms," Paul said.
CNN's stunt only serves to reinforce the perception that the corporate media entity is attempting to influence the presidential field for the sake of ratings.  As surprising as it is that both Fox News and MSNBC would give airtime to Gov. Johnson, both outlets deserve a bit of positive recognition for allotting time to a candidate who probably wouldn't have had another opportunity to articulate his vision.
An outlet that tries to distinguish itself from the highly partisan tone of its two rival outlets, CNN has clearly failed in its duty of contributing to a well-informed citizenry.