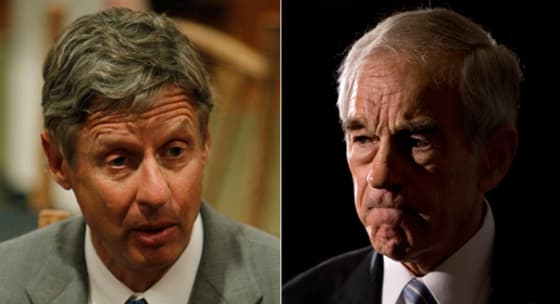 As the internet shapes up to play a bigger role in 2012, Republican candidates Gov. Gary Johnson and Rep. Ron Paul are using the medium to challenge the mainstream media and their own GOP presidential colleagues.
CNN recently decided to exclude Johnson from appearing in its upcoming Republican debate on June 13. With the net at his disposal, however, the former New Mexico governor took to his Youtube channel to directly communicate his thoughts on CNN's decision to determine the field of candidates.
"Tell CNN to let Gary Johnson debate on June 13...Give Liberty a Voice," the clip opens. 
Throughout the rest of the brief clip, Johnson touts his record as former governor of New Mexico and urges his supporters to contact CNN. Whether or not Johnson will be able to rally the troops to change CNN's mind is uncertain at this point. What is certain is, if there is a significant following for Johnson, then the internet will allow him to use communication channels like Youtube to test the waters and bypass CNN's tight control.   
Congressman Paul, making his third run for the presidency, is famously trademarked by his (primarily) online money bomb fundraising strategy. Thus far, it's been no stranger to this campaign's beginning stages. Just ahead of the first presidential debate back in May, his grassroots-coordinated, mass fundraising effort lured more than $1 million from small donors (as Yahoo News reported).
The Center for Responsive Politics reported that Paul has had a history of money bomb success among the retiree, military, and health professional sectors. Donors in the technology field working at such large companies like Google also rounded out the congressman's top donors. Paul's past donations also have quite a bit of a California flavor to them as well, with the Golden State offering a higher percentage of donations than his home state of Texas.
     "Of the money Paul raised above the $200 disclosure fold, 16 percent of it-or about $2.2 million-came from California, and about 13 percent of it-about $1.9 million-came from Paul's home state of Texas, according to research by the Center for Responsive Politics," the Center's previous research noted.
On the GOP side, the nearest threat to Paul is former Massachusetts Gov. Mitt Romney. Romney raised at least $10.25 million in a recent one-day call-a-thon. While Romney may have pummeled Paul financially speaking, there's a key element that may make Paul more effective as the presidential candidate against Barack Obama.
Although Obama's administration is now more corporately influenced with such large donors as GE and Goldman Sachs, President Obama's campaign in the beginning stages was fueled in much the same way that Paul's current campaign is being driven: small donors. On the other hand, Romney's recent donations come from a network of wealthy donors and would likely be a turn-off to many voters on Main Street.
Voters looking for a candidate to represent them don't want to see a campaign that's bought by a wealthy few; rather, they're looking for some way to become part of a greater movement.  This is what drove Howard Dean's 2004 presidential campaign (even though it fell short).  It's what drove Barack Obama's historic 2008 campaign, and it will likely be what drives the 2012 winner. While putting forth an ideology that resonates with the people is the main key to electoral success, the ability to mobilize a significant pool of small-donor voters is what makes Congressman Paul a potentially bigger threat to the Obama fundraising machine.
With the net's tools, the cable networks are losing their ability to control political dialogue.  Cheers to a 2012 campaign where voices not normally heard will be amplified thanks to innovative media technologies.