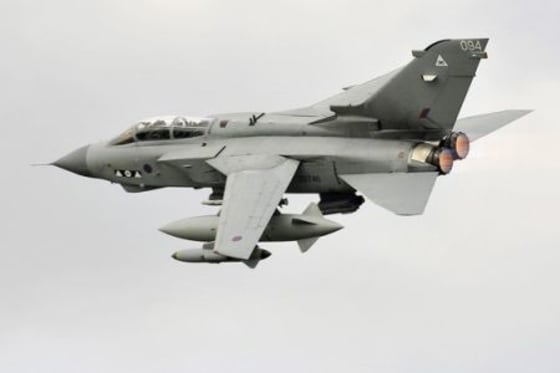 An amendment to the Homeland Security Appropriations bill offered by Rep. Brad Sherman (D-CA) that would have banned funds from being "used in contravention of war powers resolution" was narrowly defeated on Thursday. The closer than expected 213-208 vote struck down a ban on congressional funding of the White House's Libyan war effort, which many view as illegal.
Strong bipartisan support for ending U.S. involvement in Libya was feared by Republican leadership in the House who, on Wednesday, shelved a different resolution by Dennis Kucinich (D-Ohio) that would have demanded an immediate withdrawal of U.S. forces. Majority leader John Boehner offered an alternative proposal that completely disarmed Kucinich's bill. Boehner told fellow Republicans in a meeting on Thursday that pulling out of a NATO-led operation would "undermine our troops and our allies." A spokesman for Defense Secretary Robert M. Gates said the General concurred with these sentiments.
     "To unilaterally abandon mission would have enormous and dangerous long-term consequences," spokesman Geoff Morrell said in a statement.
The White House has always staunchly opposed pulling out of Libya. Spokesman Jay Carney stated:
     "We believe that the goal the president has is shared by a vast majority of members of Congress, and we have consulted with Congress every step of the way since we have initiated this policy."
On Friday, Boehner's resolution passed 268-145. It calls on the President to provide more information on the Libya mission within two weeks and officially reiterates that Congress has not given the President permission to go to war. Some members of the large coalition of Republicans and Democrats who supported the Sherman Amendment (and who would have likely supported Kucinich's call to immediately withdrawal all forces from the Libyan war theater) weren't pacified by Boehner's half-hearted attempt to "put the president on notice." Representative Howard Bermain (D-CA.), ranking member on the House Foreign Affairs Committee had choice words to describe the resolution:
     "Pursuing a non-binding house resolution that takes potshots at the president and amounts to nothing more than a sense of the Congress is just an exercise in political gamesmanship. It is a pedantic effort to embarrass the president without taking any ownership of the policy of the intervention."
As political tensions heat up over North Africa, attention is being drawn away from Afghanistan where Obama's word will soon be on trial, again. The President promised to draw down forces starting next month, but according to the outgoing Chairman of the Joint Chiefs of Staff, Admiral Michael Mullen, a plan hasn't even been submitted by Gen. David Petraeus yet. Once Petraeus decides on a course of action, he will submit a proposal to the President, and it will then be reviewed by advisers.
Petraeus made headlines Thursday when he pledged to keep civilian casualties in Afghanistan to an "absolute minimum." His words came in response to harsh criticism of NATO operations by Afghan President Hamid Karzai. On Tuesday, Karzai demanded that NATO forces stop bombing homes. NATO said it will not alter its aerial operations, while U.S. Secretary of State Hillary Rodham Clinton disqualified Karzai's grievances by stating that civilian casualties are unavoidable.
In Iraq, the U.S. is slated to hand over its policing role to Iraqi security forces by the end of this year, but Rep. Gary Ackerman (D-N.Y.) – ranking member of the House Foreign Affairs Middle East and South Asia subcommittee – feels that America's job in that war-torn country is far from over.
     "Most Americans believe we're done in Iraq," Ackerman (D-N.Y.) said at a recent subcommittee hearing. "That is at odds with the reality in Iraq," he continued. "The American people thought they had already bought this and paid for this, that appears to not be the case."
Ackerman's solution?  The White House needs to employ a PR war salesman. Their job will be to explain to the American people why the mission in Iraq has a long way to go. "If there's no one in charge of selling it, no one is going to buy it," he said.
Assistant Defense Secretary Colin Kahl told the subcommittee that Iraqi forces can manage "internal defense" after the December 31 deadline for the transfer of obligations, but they will lack the training and equipment necessary to fight an external enemy.