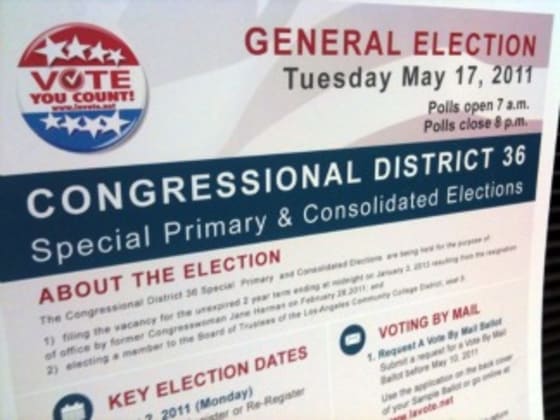 With Democrats outnumbering Republicans in California's 36th congressional district, left-of-center candidates will have the first chance at adjusting to the new top-two open primary system.  In all likelihood, today's special election will pit Democrat against Democrat in July. 
As a result of the novel electoral format, party members now have to deal with new competition from their own side of the aisle, forcing a shift away from the typical partisan attacks across the aisle.  The Los Angeles Times, for instance, notes that the expected top two vote getters are heavily targeting each other in the waning hours of the campaign to replace the outgoing Rep. Jane Harman. Being that it's a contest between two Democrats, each lobbed charges against one another that would typically be utilized against a Republican candidate, with each accusing the other of being tied to some form of corporate interests.
     "Los Angeles City Councilwoman Janice Hahn sent out two mailers attacking Secretary of State Debra Bowen for taking money from 'big oil' and criticized her 1996 vote, as a legislator to deregulate the state's energy system [...] Bowen hit Hahn for amassing at least half of her $424,000-plus war chest from lobbyists, developers, and others who do business with City Hall and pointed out that a medical malpractice insurance has spent more than $100,000 in an independent effort to support Hahn's candidacy," the Times reported.
Aside from the attacks levied against one another in this Democrat-dominated race, the practically guaranteed Democratic candidate to emerge victorious at the end (even if it is in July) will reveal the preference of voters in the district, specifically defining which liberal platform takes priority at this time.   Politico notes that Hahn has a strong labor backing from unions like the Los Angeles County Federation of Labor, Bowen has the backing of environmental groups like the Sierra Club and the League of Conservation Voters, and Marcy Winograd is a staunch anti-war candidate who earned 41% of the primary vote against Harman before the congresswoman stepped down in February. Politico pointed out, that this time around, there is more than one anti-war candidate in the bigger field of candidates, which might make Winograd's task of standing out from the crowd a bit more challenging. 
Republicans are bound to be watching how the election plays itself out as they will have to learn how to adjust their tactics against members of their own party (in the case that two Republicans will eventually face off). Before parties in California know it, however, political tactics will have to change yet again with a non-partisan Citizens Redistricting Commission set to redraw state senate, state legislature, and congressional lines. 
If none of the 16 candidates in the field get over 50% of the vote in District 36 today, the top two candidates will advance to the July 12 runoff election.