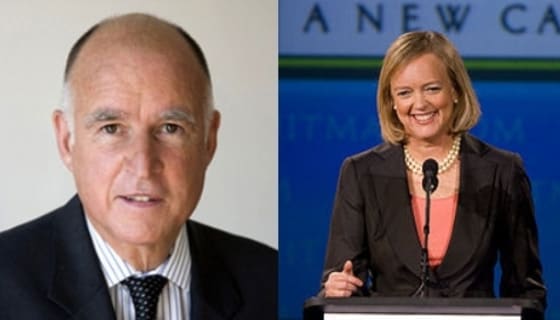 California's Independent – decline-to-state – voters will decide November's gubernatorial race between Republican Meg Whitman and Democrat Jerry Brown. 
Numerically, it is impossible for a Republican candidate for governor to beat a Democratic candidate without a strong showing among Independents.  Republicans are just under 31 percent of registered voters, Democrats are slightly below 45 percent, and Independents represent slightly over 20 percent of voters – more than twice their number in 1990. 
     "For Whitman to win a state where Democrats outnumber Republicans by 14 points, she has to carry the non-partisan voters," said Mark DiCamillo, director of the Field Poll.  "She probably needs to win by a double-digit margin from that segment for this to be a close race. If Brown is even, he wins – just because of the number of Democrats." 
Recently, the Whitman campaign says it plans to reach out to Bay Area Independent voters – about one quarter of decline-to-state voters statewide.  So far, Independents - who are not a homogeneous bloc of voters to begin with -- remain evenly divided between Brown and Whitman.  As of July, among likely Independent voters, Brown is favored by 30 percent and Whitman by 28 percent, according to polling by the Public Policy Institute of California. Another 12 percent back other candidates. Thirty percent remain undecided. 
Most political observers attribute part of the indecision to there still being more than two months to Election Day. Others, however, say a contributing factor is that neither candidate is speaking to issues important to Independents.  
In 2006, Gov. Arnold Schwarzenegger won re-election through the support of 54 percent of Independent voters. But the dynamics and demographics of the 2010 election are different.  The Golden State's last gubernatorial race occurred before the recession hit, before the housing market and construction industry imploded, and before 12.3 percent statewide unemployment and more than 2.2 million Californians were out of work. 
In January 2007, a Public Policy Institute survey found 22 percent of voters saying immigration was the most important issue the governor and the Legislature should address. Jobs and the economy were cited by 7 percent.  Sixty percent of Independent voters approved of Gov. Arnold Schwarzenegger's performance and 37 percent approved of the job the Legislature was doing.  Asked if the GOP governor and Democratic majority Legislature would accomplish a lot in the coming year, 63 percent of Independents said "yes." 
Flash forward four years to May 2010. 
Now, 57 percent of Independents say jobs and the economy are the most important issues facing the state. The budget is a distant second with just 15 percent of decline-to-state voters saying it's the top priority. Immigration? Nine percent. 
Two in three Californians surveyed say bad times are ahead. The highest percentage saying so are Republicans at 76 percent followed by 65 percent of Independents although only 47 percent of Independent voters say the state's recession is serious. 
"Voters are dispirited. They're all glum and negative," DiCamillo said.  The governor and Legislature's 2010 approval rating among Independents: 24 percent and 16 percent, respectively.  Only 18 percent of Independents thought the governor and Legislature would work collaboratively and successfully in the coming year. 
"It's Maslow's Hierarchy of Needs they care about," said Barbara O'Connor, emeritus director of the Institute for the Study of Politics and Media at California State University Sacramento.  "It's pretty basic: 'I want a job. I want my family to be safe. I want to live in a house. I want my community to function.' Their lives are not better and they want them to be." 
Abraham Maslow's theory of human development is a pyramid at the top of which is "self-actualization. Near the bottom above "physiological needs" such as breathing and food, are the "safety needs" O'Connor references – the things people must obtain before moving higher on the pyramid.  Those things are personal and financial security and health.  The recession, jobless rate and flurry of foreclosures have all magnified concern about those issues by voters – not just Independents. 
In 2006, a centerpiece of Schwarzenegger's campaign was public works investment, including a $42 billion package of bonds to improve everything from levees and highways to public schools and low-income housing.  The largely non-partisan issue won support from Independents who, as of September 2010, describe themselves this way: 40 percent moderate, 29 percent liberal and 31 percent conservative.  Among the findings of the same September poll, also by the Public Policy Institute, is that while 38 percent of Independents say they lean Democratic and 30 percent lean Republican, 32 percent say they don't lean either way. 
Another example of the divisions among decline-to-state voters is the federal 2009 health care overhaul. Democrats strongly supported it and Republicans opposed it equally strongly. Independents broke 50 percent for the proposal and 38 percent against it, according to the Public Policy Institute.  On the other hand, 50 percent of Independents prefer lower taxes and fewer government services – double the number of Democrats who do. 
Demographically, 48 percent of decline-to-state voters live in equal percentages in Los Angeles and the Bay Area. There are more Independent voters than registered Republicans in San Francisco.  Independents have the most 18-year-old to 34-year-old voters – 26 percent -- and the highest number of males, 60 percent versus the GOP's 52 percent. Fifty-six percent are college graduates, 65 percent are white and 44 percent earn $80,000 or more annually.  The lower age of Independent voters could help Whitman, who, through her record campaign spending, is now better known among voters age 40 or below than Brown. 
Despite the 60 percent to 40 percent male-to-female split among Independents, O'Connor notes some dissatisfaction among female Independents with Whitman and Republican U.S. Senate candidate Carly Fiorina.  "They really resent the non-voting thing with Meg and they refer back to Carly's comment on Barbara (Boxer's) hair," O'Connor said.  "They manage kids, families, jobs and they vote and they don't like the excuse (Whitman) doesn't have time. These two women simply are not like them. In lots of ways." 
Both O'Connor and DiCamillo say the real question is whether Independents – Democrats and Republicans as well  – will vote.  As DiCamillo says, the electorate is "dispirited," which usually translates into lower turnout.  Only 33 percent of registered voters cast ballots in the June primary.  "(Independents) showed up for Obama but you've got to give them a reason to go to the polls," O'Connor said. "They don't seem to have one yet." 
The last comparable election to November 2010 was November 1990.  There was no incumbent governor and the end of the Cold War was driving California's aerospace and defense industries into a tailspin.  Republican U.S. Senator Pete Wilson squared off against Dianne Feinstein.  Wilson won with 49 percent of the vote to Feinstein's 46 percent, 3.8 million votes to 3.5 million. In 1990, there were roughly 13.5 million registered voters so the 7.3 million ballots cast represented a 54 percent turnout. 
"It was similar. A dispirited electorate. There wasn't a big turnout. And when you don't have a big turnout you could get a disproportionate number of Republicans," said DiCamillo.