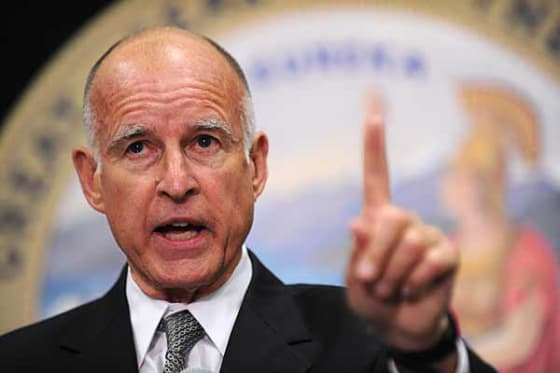 The Orange County Register, certainly no friend of Democrats, has broken a major story about Jerry Brown and the size of the pension he will receive from the state government when he retires. Under the law, Brown is eligible for a pension of $73,720 based on his 16 years of service. Yet it appears his pension will be $110, 580 because he has mysteriously been credited with over 25 years of service.
Worse, his pension is funded under a secretive pension fund, the Legislative Retirement System (LRS), which managed by CalPERS. Membership is now limited to an elite few state officials and legislators even though outraged voters thought they'd put a stake into its heart when Prop 140 passed in 1990.  But no, it merely shrunk down in size and quietly retreated to the shadows.
CalPERS cites confidentiality, saying they cannot legally provide information about those in LRS.  However, actuarial data from LRS show an unnamed person the age of Jerry Brown who makes precisely what Brown makes as being credited with over 25 years of service.  Experts consulted by the Orange County Register were unable to explain the discrepancy over the service years.
Ok, so this is the Orange County Register, a hard right conservative newspaper, so maybe this is all just an unsubstantiated mud ball thrown at Jerry Brown?   Well, if that was so, then the Brown campaign certainly would have responded quickly with hard facts and refutations. But they haven't. Instead their response has been crickets and a bit of mumbling about how the unnamed person certainly seems like Jerry Brown. This is hardly an inspiring counter-attack.
This is not a left vs. right issue. While I'm a progressive, I agree with Roger Simon at Pajamas Media when he says the real problem is that California has secret state pensions that taxpayers are not allowed to know any details about. This is wrong. We need full transparency about all publicly funded pensions as well as no undead secret pension funds that somehow managed to continue 20 years after everyone thought they'd been stopped.
As you might imagine, the right has cheerily been posting and blogging this story everywhere, while the left is mostly trying to ignore it. While this is certainly predictable, the real issue is not Republican vs. Democrat but the obvious fact that California has a broken public pension system, of which this cozy little pension fund is just a small part.
California is facing a $19 billion budget deficit. Several billion dollars of the budget goes to financing public pensions, a number which is expected to grow.  Yet the proposed pension plans by both gubernatorial candidates is "sadly lacking." The pension funds are already in deep trouble. Unrealistic predictions of stock market gains of 7% a year have left them deeply underfunded.  Yet Jerry Brown's plan relies heavily on gains that will be made by a supposedly resurgent stock market while Meg Whitman's proposal to raise retirement ages for those already in the system may be legally impossible to do. Neither candidate seems to genuinely understand how catastrophic the situation is. But California needs major pension reform now.