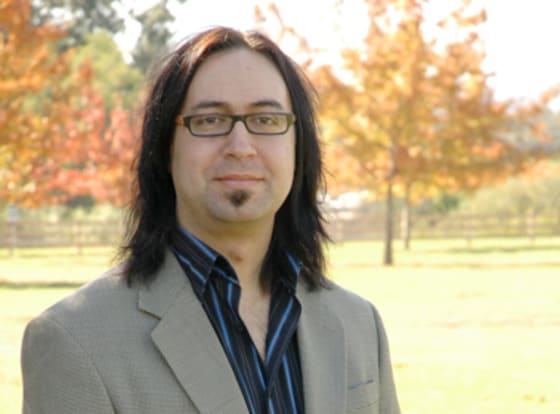 Adrian Galysh is not your typical candidate for political office. Sporting a goatee and hair down to his shoulders, this rock musician plans on shaking things up with his bid for a California State Senate seat.
Filed to run as a member of the Libertarian Party, Adrian Galysh (pronounced gawl-ish) is challenging Democratic incumbent Alex Padilla for the 20th District State Senate seat (Van Nuys).
Galysh's campaign touts what it calls "the musician's message of government spending cuts, lower taxes, and school choice." How does he plan to give families more choice in education? His website says:
"Californians should have their public funds returned as a voucher, or a tax deduction, so they are empowered to make education choices for their own children."
Padilla's campaign for reelection draws a sharp contrast in the two candidates' approach to government:
"There's a difference between wasteful spending and investments we need to move our state forward."
With many accolades and accomplishments to his name, Padilla is a political "rising star" in California and will be a difficult incumbent to defeat. His active record of leading and sponsoring government programs as a State Senator, makes it clear that he does think the state government has an important role to play in moving the state forward.
How does Galysh respond when asked about his relative inexperience in politics?
Like a true politician- or like one of California's many tech companies turning a "bug" into a "feature," Galysh deftly agrees that he is inexperienced when it comes to government: "I don't know anything about accruing a $600 billion debt wasting people's tax money."
What does the rock musician know about politics?
"I do know California is in dire straits and somebody has to tell the government `No' ... musicians have been known to be more mathematical than others. It seems that can't add in Sacramento. Maybe that's where I can help."
To promote his message and his candidacy, Galysh has been touring the district and speaking to an odd assortment of of groups interested in what he has to say, including the Los Angeles Urban League of Students Candidate Forum at USC, the San Fernando Valley Tea Party Patriots "Candidate Sampler", the Thousand Oaks Glenn Beck 9-12 book club, the LA JEMM Medical Marijuana Awareness Festival, and UCLA's Young Americans For Liberty chapter.
Unlike many Libertarian Party candidates, who run in order to educate the public on their political philosophy of limited government, Galysh says he is serious about winning the race.
---
Note: As a 501(c)4, CAIVN does not endorse candidates for political office.