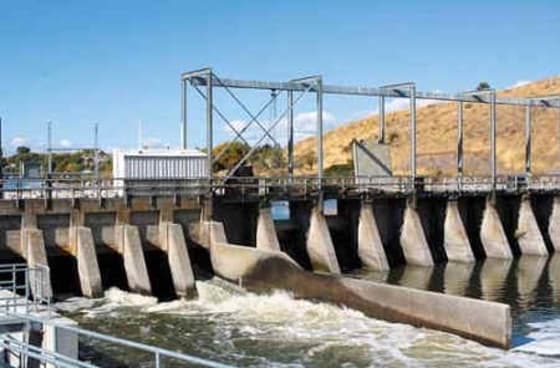 "Whiskey is for drinking, water is for fighting over" – Mark Twain 
Make no mistake, California's water supply and infrastructure is in perilous condition and needs a major upgrade - sooner rather than later.  The Sacramento Delta, which supplies an enormous amount of water throughout California, among other problems, has aging earthen levees, and needs major work.  Were the levees to fail due to earthquake, it would be catastrophic. Statewide, water supplies are limited, groundwater is becoming contaminated, and it's clear that the water system, which was designed 30 years ago for 16 million people, is inadequate for our current population of 38 million. 
Everyone knows what the problems are. But when it comes to solutions, well, Mark Twain was right. The Safe, Clean and Reliable Drinking Water Supply Act of 2010, sponsored by the legislature, may be on the ballot in November and if so, promises to be among the most bitterly fought propositions. There is no middle ground on some of its provisions.  In breaking news, Gov. Schwarzenegger now opposes having the proposition on the November ballot, even though he sponsored it, saying it would be a distraction from other propositions, and that the voters aren't in the mood for more debt. 
That the proposition is filled with pork is another major problem.  Here's what it proposes.
California issues $11.4 billion in bonds to pay for the following:

Drought relief- $455 million.
Water supply and reliability- $1.4 billion
Maintain and restore the Sacramento Delta- $2.25 billion
Groundwater protection- $1 billion
Improved water storage- $3 billion
Water recycling and water conservation- $1.25 billion
Conservation and watershed protection- $1.785 billion

Sounds great, doesn't it?
But buried within are two incendiary proposals:  building new dams and what many see as a stealth attempt to build a peripheral canal in the Delta. Environmentalist groups strongly oppose more dams, seeing them as harmful to downstream habitats, wildlife, and fish. Many commercial fishermen also oppose dams. 
Plans for a peripheral canal have been floated for decades, and have become Ground Zero for the California water wars. The canal would slurp up vast amounts of water upstream from the Delta and send it south to commercial farmers in the central valley and to the 800 pound gorilla of California water politics, the Metropolitan Water District (which services 17 million people in southern California.) Opponents of the canal say such a water grab would be devastating to the Delta while supporters say it's the best solution we have now to a pressing problem. 
However, many are opposing the water bond because it contains nearly $2 billion in pork and earmarks thrown in to convince legislators to vote for it.  Much of the pork has little to do with cleaning up the water or rebuilding the infrastructure. Some legislators actually defend this sleazy (if commonplace) practice by saying that such pork will help ensure passage of the water bond by voters. Could be, but $2 billion does spread out money and patronage far and wide and amounts to 17% of the total cost. Yuck. 
Also, how will California, which is already staggering under massive debt and facing a budget crisis, pay for $11.4 billion in bonds? Once all the bonds are sold, the interest will be $800 million a year. 
Currently, the legislature is frantically rewriting parts of the water bond proposition to block private companies from profiting off water projects built with taxpayer money, or allow re-selling such water at a profit. Somehow, a "little noticed" clause in the original would have allowed it. Imagine that. And it wasn't lawmakers who finally noticed it, but rather was the San Francisco Chronicle. 
As mentioned, Gov. Schwarzenegger is now trying to get the legislature to drop the proposition from the November ballot and push it back to 2012. This is a legislative-sponsored, not voter-sponsored proposition, so only the legislature can rescind it, with a two-thirds vote required. 
For further information, WaterForCA presents the supporting viewpoint, while NoWaterBond opposes it.