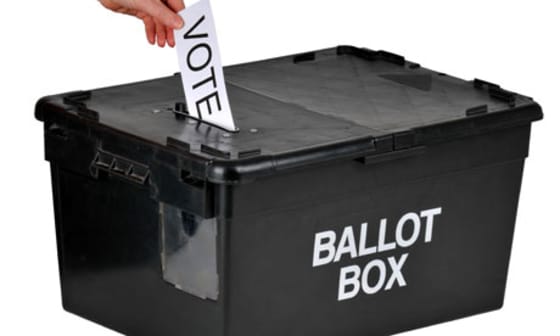 California's November 2 election is going to receive national attention.  Not just because of two high-profile races at the top of the Republican and Democratic tickets – Governor and U.S. Senate – but because of marijuana. 
Proposition 19, the first of nine November ballot measures, would allow cities and counties to adopt ordinances that license and regulate the "cultivation, processing, distribution, transportation and sale of marijuana" which some estimates say could raise up to $1.4 billion annually. 
"There will be national media interest and public curiosity so the question is how much the campaigns will work to engage voters," said Mark Baldassare, president and chief pollster of the Public Policy Institute of California. "Will the 'yes' side seek to mobilize young voters who are more inclined to support legalization? Will the 'no' side counter with efforts to get out the vote among older voters less inclined to support legalization?" 
Supporters of Proposition 19 say the initiative will draw a different kind of voter.  "Our research shows that a large number of occasional voters, particularly younger voters, will show up at the polls specifically to vote for this initiative," said Dan Newman, a spokesman for the "yes" campaign.  "Because these are low-propensity voters, most polling -- even though all show the initiative leading -- actually undercounts our support," Newman said. "This initiative can be a strong driver of turnout among younger voters, newer voters, Democrats and independents." 
Asked at the state Democratic Party convention in April how Democrats can re-energize President Obama voters from 2008, Party Chair John Burton replied: "Pot."  Not arguing the merits of legalization, Burton said the ballot measure "will turn out people." 
And what those voters will find are nine measures that make it easier to pass a budget, more difficult to balance one, and a choice over who is allowed to draw legislative districts' lines – lawmakers themselves or a 14-member commission, among other things. 
Proposition 18, an $11.4 billion water bond, is likely being moved to the 2012 ballot. Supporters fear that the state's economic climate and voter mood would doom its passage in November. 
"Usually when there are interesting and diverse ballot measures, turnout goes up over what it is in a normal gubernatorial race," said Mark DiCamillo, director of the Field Poll.  Presidential elections always have higher turnout. A record 13.7 million Californians voted in November 2008 – nearly 80 percent of registered voters. In 2004, 12.6 million Californians went to the polls.  In the last gubernatorial election in 2006, only 48 percent of registered voters participated. Less than one-third of registered voters cast ballots in this June's primary. 
As it has been for several decades, the ballot has become a high-stakes battleground for interest groups. What can't be accomplished in the Legislature or won from the administration gets placed directly before voters. 
Democrats, who hold comfortable margins in both the Assembly and the Senate, have long sought a majority vote for the budget because their numbers fall short of the two-thirds now required.  Proposition 25 would lower the approval threshold to a simple majority for passage of a budget but keep it at two-thirds for tax increases. Lawmakers would forfeit their pay for every day after June 15 they have not sent a budget to the governor. 
"It only addresses half the question," said Jean Ross, director of the California Budget Project. "It makes it easier deciding what you're going to spend but not where the income comes from."  Opposing Proposition 25 will be business groups, likely including the California Chamber of Commerce, who prefer the two-thirds requirement because it gives their Republican allies leverage.  Business groups also worry that the way the measure is written could allow taxes proposed as part of the budget to be approved on a majority vote as well. 
The Chamber is sponsoring another measure, Proposition 26, which would make it more difficult to impose or increase fees, which require only a majority vote.  Taxes require a two-thirds vote under Proposition 13, the landmark property tax initiative approved in 1978.  "Any change in state statute which results in any taxpayer paying a higher tax must be imposed by an act passed by not less than two-thirds of all members elected to each of the two houses of the Legislature," is what Proposition 26 would require.  "This doesn't tie up state programs or dictate spending," said Allan Zaremberg, the Chamber's president. "This clarifies that Proposition 13 says a tax requires a two-thirds vote and we're clarifying what a fee is since it wasn't mentioned in Proposition 13." 
Business groups will oppose Proposition 24, an initiative backed by the California Teachers Association (CTA) to repeal three tax breaks approved as part of the 2009 budget.  By repealing the tax breaks, the CTA would put $1.7 billion into state coffers in the fiscal year beginning July 1, 2011. Under the funding formulas of Proposition 98, approved by voters in 1988, public schools receive at least 40 cents of every $1 put into the state's general fund.  Specifically, the initiative would prevent businesses from applying operating losses to prior tax years and truncate the number of future tax years those losses could be applied to. 
Two tax breaks that have yet to go into effect would also be repealed.  One would have allowed affiliated corporations to share tax credits.  The other, of primary benefit to Silicon Valley companies and companies doing business in multiple states, would let businesses calculate their California taxes based on in-state sales rather than a combination of property, payroll and sales income.  Republicans insisted on passage of the three to secure their votes for the 2009 budget. They also object to efforts by Democrats in current budget negotiations to postpone implementation of the two for two years. 
To counter Proposition 20, an initiative that would strip them of the power to draw their own district lines, California's congressional delegation qualified a rival measure, Proposition 27, which would eliminate a 14-member redistricting commission approved by voters in November 2008.  Currently, the commission is charged only with drawing state legislative boundary lines, the once-each-decade process known as reapportionment. 
Proposition 20 would add congressional boundary lines to the commission's responsibilities.  The commission, whose members have yet to be named, is to be comprised of five Democrats, five Republicans and four voters registered with neither party. Any newly drawn lines would need to be approved by three Democrats, three Republicans and three unaffiliated members.  Bankrolling much of the "yes" side of Proposition 20 is Charles T. Munger, the son of Charlie Munger, vice-chair of Warren Buffet's Berkshire Hathaway. 
Further restricting the state's already restrictive budget options is Proposition 22.  Sponsored chiefly by the League of California Cities, the measure prevents the state from "shifting, taking, borrowing or restricting" the use of money earmarked for local government services, redevelopment and local transportation projects.  It also prevents the state from delaying the distribution of tax revenues to local governments even if the governor declares a state fiscal emergency, which is a power the state currently has. 
Proposition 21 would impose an $18 surcharge on vehicle license fees to support state parks.  This initiative is very similar to a Democratic budget proposal in 2009 rejected by Gov. Arnold Schwarzenegger and Republican lawmakers. In return, Californians would receive free park admission. Commercial vehicles, trailers and trailer coaches are exempt. Rangers are allowed to restrict park access if too many Californians want to visit at one time. 
Schwarzenegger has already taken a major interest in defeating Proposition 23, which would suspend a key part of his gubernatorial legacy – AB 32, the landmark greenhouse gas emissions reduction law.  Backed chiefly by oil companies, the eight-paragraph initiative would suspend the law until California's unemployment rate drops to 5.5 percent or less for four consecutive quarters. The state unemployment rate in May was 12.4 percent. 
The suspension would also scuttle state efforts to obtain 30 percent of its electricity from renewable sources by 2020 and create cleaner-burning fuels.   Mandatory emission reporting and the payment of fees by major polluters such as power plants and oil refineries would also halt until the suspension is lifted. 
Supporters argue AB 32 will increase costs on businesses and consumers for everything from energy, to food and transportation, and increase unemployment.  Opponents, led by the GOP governor, say the initiative will kill the state's growing clean tech economy, increase air pollution, and drive up energy costs for businesses and homeowners. 
Supporters have built a diverse coalition of 300 entities and argue the "suspension" is a de facto elimination.  An unemployment rate of 5.5 percent for four consecutive quarters has happened only three times in the past 30 years, according to California Employment Development Department records. 
For the complete text of the November ballot initiatives, visit the Secretary of State's page here.