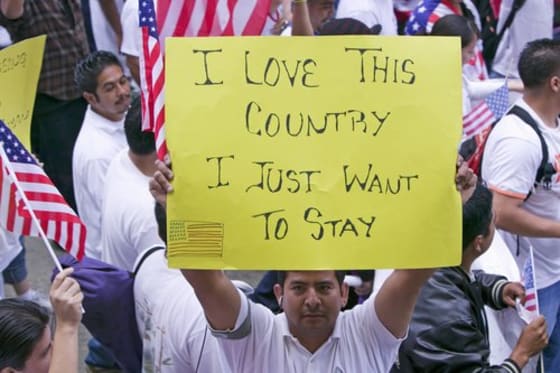 Today marks the end of primary season as many eyes curiously rest on the Republican races to be decided by tonight.  In a state where Republican voters are gasping to breathe the air of financial recovery, their ballots also will bear witness to just how much of a monkey wrench illegal immigration has played in deciding the Republican picks for November.


With illegal immigration the issue of the moment, it is no surprise all Republican candidates in gubernatorial and Senate primaries are portraying themselves as quite conservative on the issue. 
In a sour political climate, Republican voters face many questions of self-examination when it comes to the political role of their party in liberal California.  They face the ultimate choice of which candidates on the Republican ticket are most likely to carry the victory banner against the Democratic challengers in November.


But whether they'll carry the victory banner on the back of a hardline illegal immigration crackdown is highly doubtful.  Illegal immigration may very well be the ticking time bomb waiting to explode in Republicans' faces.


While the issue is being discussed in the gubernatorial race to a great extent, it is not necessarily at the top of Democrat Jerry Brown's list of issues to tackle.  Brown is ever the confident man with the plan, setting his sights on issues he plans to address the day he sets foot in the governor's mansion.


According to the AP, issues that Brown plans to address are all fiscal in nature.  "Brown posted a letter on his website listing three issues he would tackle as governor: reducing regulatory barriers that he said stifle job creation; delivering an honest, transparent state budget; and shifting authority away from the state to local governments and school boards," reports the AP.
His staying away from the illegal immigration issue seems very much to be his way of letting Republicans tear each other apart before November. 
Illegal immigration has also become an issue of discussion in the Republican Senate primary; however, this too can lead to crippling the Republican candidate in the race to unseat Sen. Barbara Boxer.  Boxer has the chance to strengthen her ties with the Hispanic community given that she supports comprehensive immigration reform.  With Boxer's endorsements from many influential Spanish groups, Republicans have a force to reckon with when they touch the issue of illegal immigration.


In a matter that further complicates the debate for Republicans, those who tout their conservatism with their base on illegal immigration forget that conservative icon Ronald Reagan actually supported an amnesty bill.


There is an anti-incumbent mood in the air. However, California Republicans still have a steep uphill battle to a November victory.