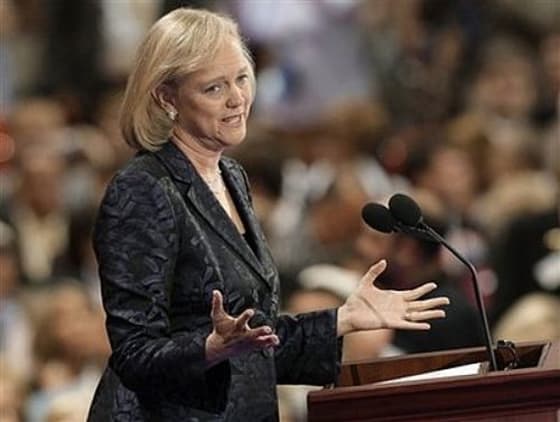 How did Meg Whitman's poll numbers fall? Or more accurately, what *didn't* happen in order for this perhaps signficant drop to occur?
This past week, the Public Policy Institute of California (PPIC) came out with some rather unpleasant news for the Whitman campaign.  Whitman's previously polled lead over rival Steven Poizner has noticeably dropped . According to the 41st "Californians & Their Government" report, "Support for Meg Whitman has plummeted 23 points since March" and the competition between Whitman and Poizner is at its closest level yet.  38 percent of those polled will probably vote for Whitman, while 29 percent said they would probably vote for Poizner. This is in striking contrast to previous Whitman polling leads of between 30 and 50 percent.

While this may bode ill for Whitman, this is one poll and may not actually reflect what will happen, come primary time. The PPIC poll also points out that 31 percent of those polled were not yet committed to a specific candidate. If Whitman is able to reach out and embrace right-leaning independent voters before June 8, she may have a good shot at winning.  If Whitman is to win the GOP nomination, she will most likely square off with former governor and current California Attorney General Jerry Brown.

Interestingly, the poll found a number of potential voting trends, which included a male preference for Whitman, a preference by the elderly for Brown, a preference by Central Valley voters for Whitman, and a preference for Brown in the typically liberal voting areas of San Francisco and Los Angeles. The PPIC poll further found that in polling, "Whitman's support has dropped at least 17 points across all demographic groups, with the sharpest declines among those who are not college graduates (29 points) and those whose annual household incomes are at least $80,000 (28 points)." While this may seem to spell doom and gloom for Whitman, the survey still concluded that with all the drop in support, "a plurality in each group would still vote for Whitman."

On June 8, California voters will decide whether or not Meg Whitman will become the Republican Party's next nominee for the governorship. Right now, it appears that Whitman is still comfortably in the lead for the GOP nomination, but less comfortably than she was in March.  With various competing explanations as to why she has dropped so much (greater exposure of Poizner to the public, anger over the use of her personal coffers a la Mitt Romney to support her run, perhaps to the tune of about $70 million, and so forth) there is no clear overarching explanation as to why Whitman's support appears to be dwindling.
It is also important to keep in mind that the PPIC report also was put together with the response of only 2,003 eligible California voters. This same organization has continued to find a more favorable rating for Brown in match-up scenarios between both Whitman and Poizner, with a wide enough margin of undecided voters to swing the contest either way.

Last Friday, the Whitman campaign emailed supporters, encouraging everyone to "make 20 calls for Meg" in the lead-up to the battle between Whitman and Insurance Commissioner Poizner for the nomination. If Whitman's campaign is lucky, those diehard supporters will start contacting those voters on the fence and convincing them why a Whitman governorship would be more advantageous than another term under Governor Jerry "Moonbeam" Brown.