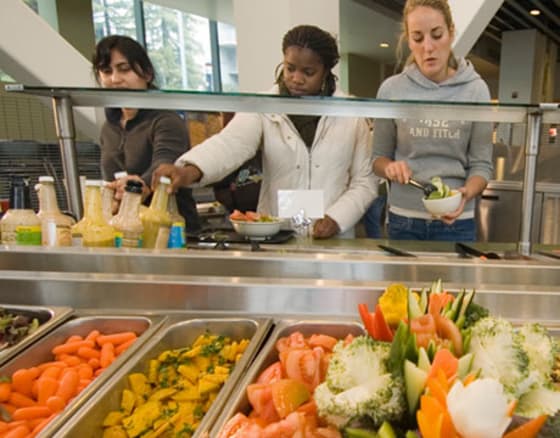 Building energy efficient LEED (Leadership in Energy and Environmental Design) certified buildings, serving locally grown food to reduce pollution from trucking in the food, and creating water-management systems that reuse captured rainwater are just some of the sustainability practices underway at numerous California universities.
These distinctions landed them in Princeton Review's Guide to 286 Green Colleges released in April of this year.  Citing a growing interest by students to attend sustainable colleges, Princeton Review partnered with the United States Green Building Council to produce this latest report.  For example, a 2009 Princeton Review survey of more than 16,000 college applicants and parents found that 66 percent said that they would "value having information on the colleges commitment to the environment," with "24 percent saying it would 'very much' impact their decision to apply to the school." 


To develop the Green Guide, 2,000 schools across the nation were invited to take a survey to determine which schools have a strong commitment to sustainability.  The guide specifically declined to rank schools as some schools have just begun to undertake their sustainability efforts while others have been underway for some time.  Three criteria were used to determine the 286 schools listed in this guide:


    •    Whether students have a quality of life that is healthy and sustainable

    •    How well a school is preparing students for employment in the green economy

    •    How environmentally responsible the school's policies are


Of the 286 schools, 25 are in California:



California State University, Chico
California State Polytechnic University, Pomona
California State University, Stanislaus
Claremont McKenna College
Harvey Mudd College
Humboldt State University
Mills College
Saint Mary's College
San Francisco State University
Santa Clara University
Sonoma State University
Stanford University
University of California—Berkeley
University of California, Davis
University of California—Irvine
University of California, Los Angeles
University of California—Riverside
University of California—San Diego
University of California—Santa Barbara
University of California—Santa Cruz
University of La Verne
University of Redlands
University of San Diego
University of Southern California
University of the Pacific


Though California's high profile in the Green Guide did not garner much press, a May 8 Sacramento Bee article just reported on the sustainability practices of three local universities included in the Green Guide. 
For example, the article reported that Cal State, Chico (also known as Chico State) holds competitions among the dorms to see which one can save the most energy.  The University of Pacific has their incoming freshman participate in an environmental services project as part of their school introduction.  UC Davis's dining halls serve fruits and vegetables from local farms.


But these efforts don't just stop at one-off programs. 


In the area of energy efficiency, Chico State has three LEED certified buildings and is committed to seeking LEED certification on all new buildings.  It also has multiple solar panels around campus that generate clean energy.  UC Davis just built its second LEED building on campus and is committed to LEED certification on all future buildings as well.


As part of its conservation efforts, Chico State has a student run recycling program that regularly drives around campus to pickup bottles, cans and papers.  UC Davis has a fleet of clean buses that run on compressed natural gas that provide three million rides annually.  UC Davis is also known as "bicycle capital of the U.S." with 20,000 bikes in use on campus each day.


And probably most importantly, both Chico State and UC Davis are preparing their students for jobs in the exploding green economy.  Chico State has developed engineering programs that teach students about renewable energy, sustainable construction, and biodiesel.  UC Davis' career center emphasizes opportunities in the environmental field such as environmental planning and water resources management, ecology, and design and landscape architecture.


Specifically acknowledged by the article is a program led by UC Davis engineering professor, Roger Boulton.  As part of a new winery and brewery currently being built on campus, Professor Boulton is teaching his students to create a water-management system that captures rainwater and can be reused five times.  When the winery is finished, it will only run on the water it captures and the energy it creates.


As California's wine industry, as well as the state's other main agricultural crops, continue to demand water that is increasingly in short supply, it is encouraging that UC Davis is paving the way for a future of fully sustainable crops that could possibly be utilized across the state. 
Moreover, with so much of the media giving air time to the seemingly misguided older generation of climate change skeptics and "drill-baby-drillers", it was a pleasure to report that the nation's college and university system and its students are so invested in creating and maintaining a robust and sustainable future.