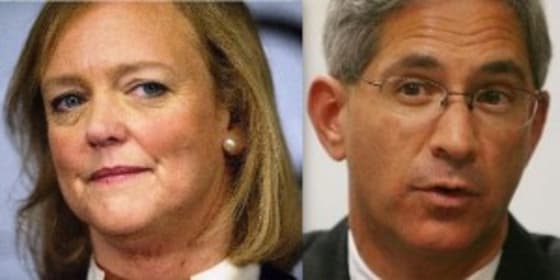 Much has already been made of the recent debate between GOP Gubernatorial hopefuls Meg Whitman and Steve Poizner, both of whom have been engaged in a months long, no-holds-barred war for the nomination.
Poizner, once seen as the perennial second place candidate for whom an expiration date was all but inevitable, has now displayed a capacity for John McCain-esque revival, having pulled within ten points of Whitman in a recent internal poll.
Whitman, meanwhile, has been tarred with the brush of big business ever since the recent investigation into Goldman Sachs. The race has become genuinely competitive, especially given that neither candidate perfectly reflects the aspirations of the California GOP's conservative base.


The fact of this mutual imperfection was perhaps the most striking element of the debate. As columnist Dan Walters points out:
     Poizner hammered at Whitman on Goldman Sachs, on supporting Democratic Sen. Barbara Boxer, on her admitted failure to vote, on global warming and on illegal immigration… Whitman found herself on the defensive over Goldman Sachs but lashed out at Poizner's shifting positions on social issues and slapped at his management of the Department of Insurance, at his support for changes in Proposition 13 and the check the Poizner household wrote to Democrat Al Gore's presidential campaign. 
Both of these sets of credentials would, ordinarily, be enough to sink a candidate in a GOP primary, but when neither leading candidate in such a primary is free of moderate heresy, matters become more complicated. Still, a few recent trends are worth noting in the aftermath of the debate, which may provide a clue as to the winner.


The most notable result is that Meg Whitman, who remains the frontrunner despite some floundering, has picked up a new endorsement. The Packer blog reports that "With the California general election six months away, the California Farm Bureau Federation's board of directors has chosen Republican Meg Whitman in the governor's race…The board was impressed with Whitman's support for the construction of new reservoirs in the water challenged state."
This endorsement has different implications, depending on how you view the Farm Bureau. On the one hand, if the Farm Bureau is read as a collection of small business owners, Whitman will be helped greatly by the endorsement, seeing as one of Poizner's major attack lines against her is her inability to relate to the "average person."
Small business owners have become the proxy demographic for the elusive entity recently, and to be associated with them is generally considered to be good politics for a GOP candidate in the same way that union endorsements are good politics for Democrats.


On the other hand, Farm workers have a historically spotty relationship with the GOP and its free market message, a tension that is on display in the Bureau's admiration of Whitman's support for the construction of new reservoirs. Such construction is not cheap, and if Poizner can paint Whitman as supporting it, he may also be able to tar her with the brush of being pro-farm subsidies, a policy which has been out of fashion in the wider GOP since Barry Goldwater's nomination in 1964. This type of attack would further cement the image of Whitman as a crony capitalist who aims to extend special favors to whatever corporatist interest groups scratch her back.


Continuing further along this note, another interesting element which has resulted from the debate is the recent attack on Whitman by the long shot Peace and Freedom candidate Stewart Alexander, who has alleged that "Meg Whitman's fiscal road map for California leads directly to Wall Street, it's a plan that will benefit the richest 1 percent of Californians and create a junk bond credit rating for California."
Alexander's attack is not likely to resonate terribly much with GOP voters, who view Leftist attacks as a badge of honor, but it is useful foreshadowing of a point which Democrat Jerry Brown will likely make with more subtlety and more skill if he faces Whitman in the general election.
Whether such a line will be effective is not necessarily answerable just yet, but if present trends continue, Whitman will want to show great care in making her admittedly strong case for office.