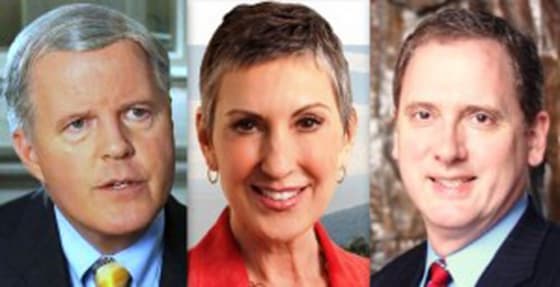 A few months ago, fellow CAIVN contributor Christopher A. Guzman noted that comparisons of the state GOP's struggle to unseat Barbara Boxer to the upset of Scott Brown could be prematurely optimistic. However, the current political environment seems to indicate that such a similar result is possible, at a bare minimum, and on the basis of political trends within the GOP primary, it appears that, if nothing else, Boxer's opponent will have more than a few echoes of Brown's candidacy.


To begin with, the state of the race can be summarized as follows: former Representative and Gubernatorial candidate Tom Campbell leads the pack, with former Hewlett-Packard Executive Carly Fiorina trailing him by sizable-but-not-insurmountable margins, and with State Sen. Chuck DeVore at the back of the line. 
A recent SurveyUSA poll found the following breakdown: Campbell with 34%, Fiorina with 27% and DeVore with 14%, with a sizable 23% of voters undecided – a number which could, once claimed, give the mantle of success to any candidate. If current trends hold constant, however, that candidate is likely to be Campbell.


Those trends are diverse, and difficult to summarize, but a few recent news items present contours by which to do so. They also present an explanation for the decline of Fiorina, a candidate who was previously thought to be the strongest challenger for Boxer. In the first place, the Los Angeles Times reports:


     The U.S. Securities and Exchange Commission, the U.S. Department of Justice, and German and Russian authorities are investigating whether executives with the [Hewlett Packard] company paid nearly $11 million in bribes to win a $47.5-million contract in 2003 to sell computers through a German subsidiary to Russian prosecutors, the Wall Street Journal reported last week. Such a move would violate the Foreign Corrupt Practice Act, which prohibits U.S. companies from bribing foreign officials.


In the second place, also from the Los Angeles Times:


     The decision by federal regulators to accuse investment powerhouse Goldman Sachs of fraud for actions in the run-up to the market meltdown sent shivers through Wall Street and a jolt of uncertainty into an unlikely venue: California's political races…Former Hewlett-Packard Chief Executive Carly Fiorina is running for the Republican nomination to challenge incumbent Democratic Sen. Barbara Boxer. Former EBay chief Meg Whitman is the GOP frontrunner in the race for governor, where she would likely face Democrat Jerry Brown, the former governor trying to recapture the job he held from 1975 to 1983. Of the two, Fiorina has had a rougher road so far, both because of her business record and her comparatively paltry campaign bank account.


The fact that business connections, previously seen as an asset in a political race where discontent with political insiders was dominant, are now a potential liability, should give some picture of the political contours in California. Despite the suspicion surrounding the Goldman Sachs investigation, it is nonetheless true that many voters see Wall Street, and large businesses in general, as part and parcel with the political class when it comes to establishmentarianism.
Thus, while the quest for a "non-establishment" candidate continues, this may now imply more than simply a politically non-establishmentarian figure. Businesspeople are subject to an equal level of scrutiny.


Thus, the three-way race between Fiorina, DeVore and Campbell can be conceptualized as a sort of uneasy balancing act.
DeVore, despite his clear absence of political clout and relative outsider status, espouses political views which many voters no doubt see as in lockstep with the national party, branding him as ideologically establishmentarian, if not personally so.
Fiorina, meanwhile, has established herself as at best a politically tone deaf candidate due to her ads, and at worst a corrupt CEO attempting to appear pristine.
Given this choice, it should surprise no one that Campbell, a Scott Brown-esque moderate, with ties to the State party, but not to the national party, would be seen as the best choice. The challenge for Fiorina and DeVore is, thus, to espose Campbell as establishmentarian in some way which is relevant to California voters.
Whether they will do so or not is a subject which will no doubt be resolved in the coming month.