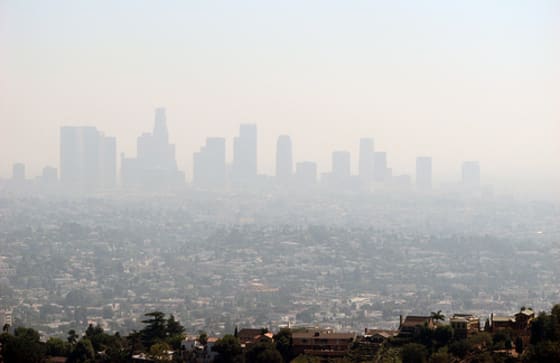 Answer quickly:  what does climate change have to do with Prop 13?  Apparently, more than we thought, because the Howard Jarvis Taxpayer Association (HJTA) has joined leagues with Texas-based Valero Energy Corporation to fight California AB32, one of the principle legislative tools for the state to address global warming and air cleanliness.
There's no question that the Jarvis group, which spends most of its time defending the impact of the 30 year old proposition that was initiated by its late namesake, brings a lot of value to the coalition – it's from California, as opposed to its partner, which is from the most pollution-laden state in the nation (remember – that used to be us).
One of the key provisions of AB-32 is the 2020 target for renewable energy sources supplied to the statewide power grid.  That number has grown from 20 percent to 33 percent under a recent gubernatorial mandate, and the result has been a boon to the renewable power industries such as solar and wind.
In recent days, California's aggressive support of renewable resources has brought jobs to Sacramento, as Roseville's Solar Power Inc. announced that it would transition in-source manufacturing of its solar photo-voltaic panels from China to California.   Tangentially, another important solar project was scheduled to be announced in nearby Sparks, NV next week, supported by NV Energy's SolarGenerations program that encourages the integration of renewable resources into the state's overall power equation.
Solar Power Inc.'s decision to move its manufacturing from China to the U.S. resurrects the Sacramento region's solar opportunities, which were dashed some months ago when the now-defunct OptiSolar's 1,000-person plant site was scrapped because of the economic downturn.
So, why does a growing solar industry threaten the tax-cutting advocates who are part of the HJTA?  Perhaps they object to governmental subsidies of these nascent "green" industries.  But, we subsidized telegraphy, telephony, and agriculture with considerable success.  We even subsidize Valero and its companion corporations in the fossil fuel industry.  And we subsidize every homeowner in California through Howard Jarvis' original idea to cut property taxes, and through federal and state tax breaks on mortgage interest.
Therefore, HJTA's opposition to green subsidies would appear to be internally inconsistent.