For the last 4 years, this house in North Park at 3663 33rd st. has been a huge concern for neighbors.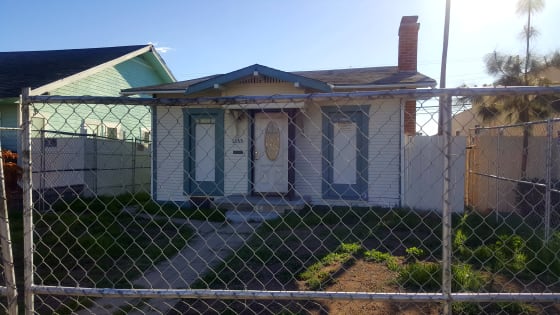 An otherwise nice, family-oriented community, this uninhabitable eyesore has been ground zero for crack and meth addicts.
Over the last two years:
A body was removed from an overdose
Drug addicts have wandered into neighbors yards
Drug paraphernalia and human waste are consistently found
You get the picture, it's a serious public safety issue.
After a dozen or so complaints, the City Attorney's office put up a Chain Link Fence and convicted the owner for failure to secure openings to abandoned property.
But, the drug users keep coming.
NEIGHBORS CONCERNS
Keri's been renting a home adjacent to 3663 33rd st. in North Park for nearly two years. She says she's called the city's non-emergency line at least 5 times to report illicit drug use. Keri says she usually dials late at night when "crack or meth smoke comes billowing into my home and wakes me up."
She says she's had "positive interactions with the city but nothing substantive is being done to remove the crack house from our neighborhood."
Keri's neighbor, Bill Lyman, has taken his concerns public. Posting blog's like the one below on Hartley's North Park website. He told IVN San Diego, "I've gone into that house multiple times with my pistol and found needles, drugs, and human feces. Eight months ago a drug addict wandered into a neighbor's yard and was screaming in the backyard at a resident. Something has got to be done."
Lyman has communicated his concerns to Councilman Chris Ward.
COUNCILMAN WARD'S OFFICE RESPONDS
Ansermio Estrada is Councilman Ward's Communication Manager, he sent IVN San Diego an e-mail outlining the recent actions and responses to neighbors concerns. He noted, "Molly Chase, Chief of Staff will follow up with the Mid-City Police Captain and Director of Code Enforcement."
This drug house has been existing for at least 4 years. Councilman Ward has been in office for a little more than 2 years and appears to be responding to neighbor concerns.
IVN San Diego will be persistent with his office.
CITY ATTORNEY RESPONDS
The City Attorney has taken action, albeit the process is slow going.
Gerry Braun with the City Attorney's office promptly responded to our questions regarding the property. Here is his e-mail response sent to IVN San Diego:
"On July 14, 2017, Defendant Edward William Forrester, who is responsible for the property located at 3663-3665 33rd Street, pled guilty to violation of San Diego Municipal Code section 54.0306(d) (failure to secure openings to abandoned property) (Case # M224646CE). The City Attorney's Office does not have the authority to remove the owner from the title. That would require separate court action. The deed is in the name of ENL Investments, LLC. There are title issues and the property is in foreclosure with a loan company. The court has been monitoring Forrester's compliance with the terms of our plea bargain, which require correction of the remaining Code violations, to include the rehabilitation of the structure. The next proof of compliance hearing is April 27, 2018, in Department 201 of the San Diego Superior Court at 1100 Union Street." ~ City Attorney's Office
IVN San Diego will be attending the hearing in April.