The Democratic race is heating up, with Clinton leading Sanders by a very small margin. It has divided liberals across the country into Hillary and Bernie camps. But who are the people supporting Clinton and Sanders? Are they neighbors or are they geographically distant? More importantly, are they economically similar, or is there an income gap between them?
We took a look at the zip codes where one candidate most out-performs the other in fundraising - the places where one candidate has raised the most relative to the other.
Clinton's top strongholds are West Washington, DC, the Upper East Side of Manhattan, Atherton (in the heart of Silicon Valley), Beverly Hills, and Aspen. Based on 2013 IRS data, the average household income of the most pro-Clinton zip codes is $448,000 a year.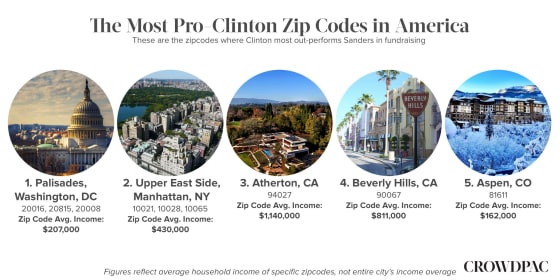 Sanders' top strongholds are The Mission District in San Francisco, Ithaca, Seattle, Oakland and the Upper West Side. The average household income of the most pro-Sanders zip codes is a more modest $103,000 a year.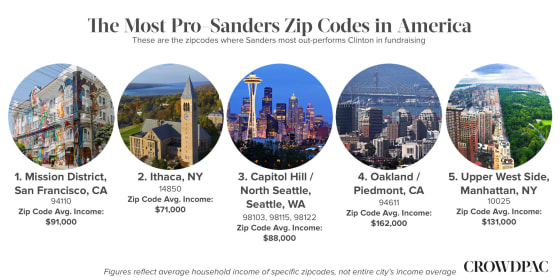 So far this cycle, Clinton's campaign has raised $123M, not including another $16M to her Super PAC Priorities USA. Sanders has raised $97.4M from donations averaging $27.
Editor's note: This analysis originally published on Crowdpac's blog on February 24, 2016.
Photo Credit: Joseph Sohm / Shutterstock.com