The Koch name has become nearly synonymous with GOP 'dark money' and political might. Often portrayed as "bogeyman" by Democrats on the left, these brothers who made their wealth in oil refining have pledged to spend up to $900 million on political advocacy this cycle alone. And since much of that money is funneled through the Koch's political advocacy nonprofit Americans for Prosperity (which isn't required to report contributions and expenditures), it can be difficult to know just who they are backing.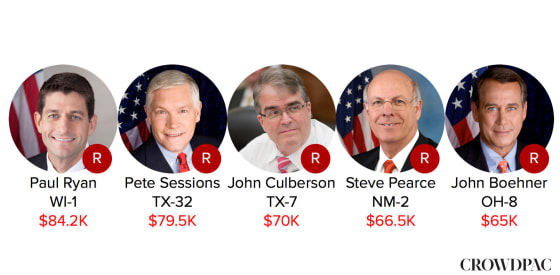 We can however look at their direct contributions to political campaigns over the years - and that's exactly what we did.
Interestingly enough, the current and former Speakers of the House place first and fifth in terms of total amount received - Speaker Ryan, has received $84.2 thousand across numerous campaigns compared to Speaker Boehner's $65 thousand.
Sandwiched in between are a number of key Congressional leaders including Pete Sessions the Chairman of the House Committee on Rules (also known as the "traffic cop of Congress"), Congressman John Culberson who sits on the powerful Appropriations Committee, and Congressman Steve Pearce who sits on the Financial Services Committee.