We've all been told that sugar is bad for us. In high amounts it causes a host of health problems. But is sugar bad for American politics? As of late, the sugar industry has invested large sums in the 2016 presidential election. And it's no surprise given that "big sugar" has a lot to lose when it comes to American agricultural policy - not the least of which are subsidies on American sugar. The US currently imposes tariffs on sugar imports to protect domestic manufacturers and allow them to compete with foreign producers with lower labor costs and more favorable geography and climate. As a result, Americans pay close to two times what buyers in other nations pay for sugar. Critics of "big sugar" cite a few reasons for the need to reform these subsidies. They emphasize the dangers of using high fructose corn syrup in foods to cost-cut, namely that the syrup has been shown to
cause higher levels of obesity and diabetes
. Other critics decry the impact of the industry on American jobs. They say that the high prices of sugar cause manufacturing companies (within the candy industry, for example) to move their businesses abroad where sugar is cheaper. According to these individuals, for every single job saved by the sugar subsidies, three manufacturing jobs are lost. A group of senators have responded to these criticisms, and are sponsoring
The Sugar Reform Act of 2015
, which lowers the rate of loans to sugar processors and limits the amount of sugar they can sell.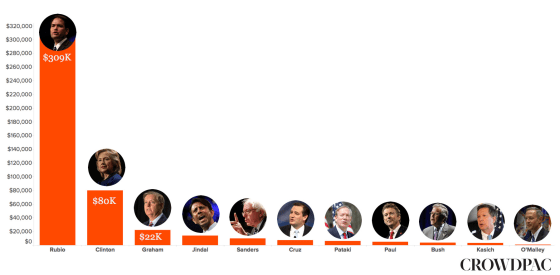 This year, "big sugar" is sweetening the deal for many of the Presidential hopefuls, especially Florida Senator
Marco Rubio
. To date, he has received over $300 thousand from the industry, $233 thousand of which was received this cycle - the biggest among them, Florida Crystals, is a major processor located in his home state. Democrat Hillary Clinton received the second most contributions this cycle at $80 thousand. Whether or not you finds this information sweet or sickening, there is only one place to
compare the choices for president and back your favorite.
Editor's note: This analysis was originally published on Crowdpac's blog on November 10, 2015, and may have been modified slightly for publication on IVN.