As is usually the case in the months leading up to presidential primaries, national focus has centered around polling in early primary states to determine which candidates are soaring and which are tanking. Crowdpac took a poll of a different sort - one that measures which states are doling out the most campaign money to the 2016 hopefuls. Here's what we found: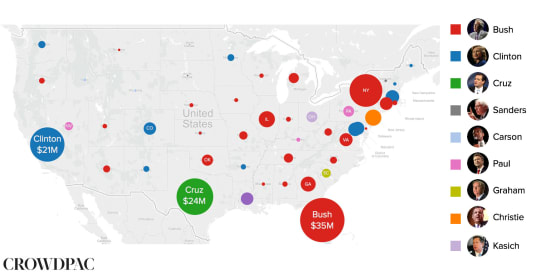 One thing is clear, the home field advantage is real.
Jeb Bush
has cleared a whopping $35 million from his home state of Florida, where he served as governor for eight years.
Ted Cruz
, the senator hailing from Texas, brought home an appropriately-sized $24 million from his home state. Current New Jersey Governor
Chris Christie
, Ohio Governor
John Kasich
, and Senator
Lindsey Graham
of South Carolina have also capitalized on connections back home, receiving the most donations of all the candidates in their home states. Who's losing the money race on her own turf? Democratic candidate and former New York Senator
Hillary Clinton
is facing defeat by Jeb Bush in the Empire State. She has, however, collected $21 million from California, possibly because
she leads the other candidates in donations from California's top industries
- ranking first in total donations from the media and entertainment industry, and third for donations from the technology industry. Jeb Bush, on the other hand, is one of the leading recipients of New York-based
Wall Street money
. Though this data may not impact the election outcome, it certainly emphasizes interesting regional giving trends.
Editor's note: This analysis originally published on Crowdpac's blog on November 3, 2015, and has been modified slightly for publication on IVN.