At 9 a.m. PDT, Edward Snowden officially joined Twitter with one statement: "Can you hear me now?" The controversial figure was welcomed with a mixed reaction from the Twitter community, but he garnered over 200,000 followers in just over an hour.
Snowden of course is the former NSA contractor who leaked classified documents to the press, exposing the NSA's mass surveillance and data collection programs to the public. He is currently residing in an undisclosed location in Russia after seeking asylum there in 2013.
Along with his inaugural tweet, Snowden decided to troll the U.S. government with only one follow: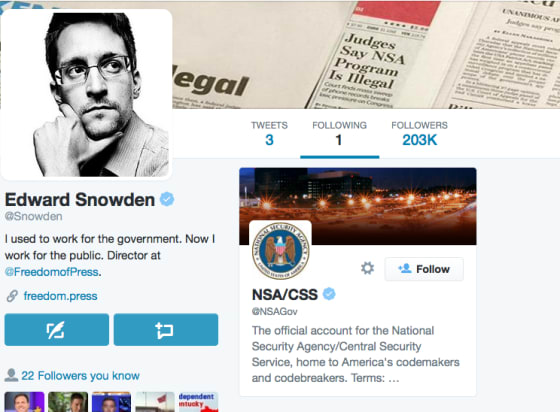 So far Snowden's conversations on Twitter have been limited to astrophysicist Neil deGrasse Tyson, who recently interviewed Snowden for his Star Talk radio show. The two covered a host of topics ranging from Chemistry to the Constitution.
https://twitter.com/Snowden/status/648909547055239169
While Tyson gave Snowden a warm welcome, the rest of the Twitter community continues to have mixed feelings. Some call him a hero, others called him a traitor and a criminal, and still more wonder, why now? Snowden hasn't been known for his social media presence -- i.e. no social media presence, so the move is a bit surprising.
Still, no matter what your opinion of the man is, one thing is for certain:
https://twitter.com/Snowden/status/648919037007777792
Check out what Twitter is saying: