While a majority of Americans - 52 percent - now favor weed legalization, the federal government has done very little to act on the changing views of the nation. Many states, however, have taken matters into their own hands, passing legislation to better represent the changing attitudes of their residents.
Today, 4 states - Oregon, Colorado, Washington, and Alaska - plus our nation's capital, Washington, D.C., have legalized the recreational use of marijuana, 24 states have legalized medical marijuana, and a number of states have decriminalized possession of the once-taboo drug.
Public polling from across the nation shows that a growing number of voters favor legalization in their state, a trend visualized by the Washington Post based on a variety of public opinion polls: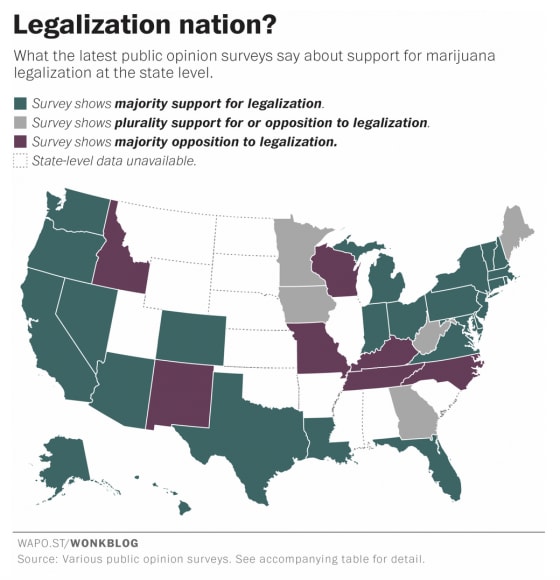 This aligns with a recent Gallup poll which finds that more Americans feel threatened by drivers who are under the influence of alcohol than those impaired by marijuana. Just 29% of respondents said that people driving while impaired by marijuana is a "very serious" problem, whereas an overwhelming majority - 79% - viewed driving while impaired by alcohol as a "very serious" problem.
If more Americans believe marijuana to be less dangerous than alcohol, a substance that is legal and fully available to those over the age of 21, what state will be next to legalize it?
Washington Post writer Christopher Ingraham explains: "Since late 2012, marijuana legalization questions have been asked in at least 38 states. In 26 of those states, majorities supported legalization. In another 5 states, there wasn't majority support for or opposition against legalization -- results were very close, in other words. And in 7 states, majorities opposed legalization."
Of those 38 states, the states closest to full legalization in 2016 are: California, Massachusetts, Maine, Nevada, and Arizona, according to TIME.
What are your predictions for 2016?