Ontario Mayor Paul Leon during a press conference // Credit: Thomas R. Cordova/Daily Bulletin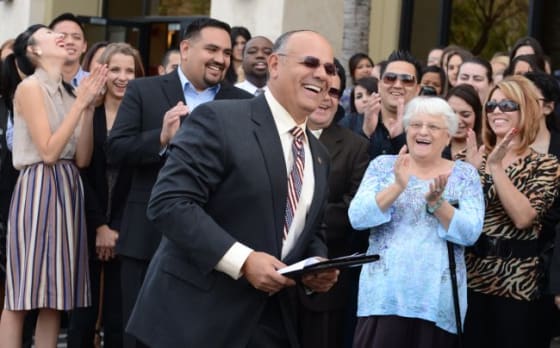 A special election on September 24 to represent California's Assembly District 52 pitted independent candidate and Mayor of Onatrio, Paul Leon, against Democrat and Pomona Councilmember Freddie Rodriguez. With all precincts reporting the next morning, Rodriguez pulled away with 51.3 percent of the vote.
Assemblymember-elect Freddie Rodriguez
Rodriguez and Leon placed in the top-two of the July 23 special primary election. Rodriguez earned the official support of the state Democratic Party, while Leon remained a No Party Preference (NPP) candidate.
Under California's nonpartisan top-two electoral system, the two candidates with the highest vote count in the primary move on to the general election regardless of party affiliation. Leon is the second independent candidate for state Assembly to compete in the general election since the implementation of the top-two system.
Independent Chad Walsh competed against Democrat Paul Fong for Assembly District 28 in the 2012 general election. Walsh obtained 38 percent of the vote.
There were 4 nonpartisan candidates who qualified for the general election for congressional seats in 2012. The most competitive race had independent Bill Bloomfield challenge U.S. Representative Henry Waxman in CD 33. Bloomfield earned 46 percent of the vote.
Had Mayor Paul Leon won the AD 52 special election, he would have been the only independent legislator in Sacramento.
Assembly District 52 has 177,070 registered voters as of February 2013, but only a total of 13,743 voters participated in Tuesday's special election resulting in a 7.7 percent voter turnout rate. Leon was narrowly defeated by just 365 votes, a 2.6 percent margin of victory for Rodriguez.
Total spending through September 7 -- the most recent data from the Secretary of State -- for Leon's campaign came out to $96,795 while raising $133,642. Rodriguez significantly outspent and raised more than his opponent, totaling $414,795 in expenditures and $379,554 in fundraising.
Assembly district 52 encompasses parts of eastern Los Angeles and western parts of San Bernardino, major parts of Ontario and Pomona:
Credit: PE.com
UPDATE: At the end of business on September 25, total votes for Rodriguez and Leon were at 7,435 and 7,121 respectively. The margin of victory is now 2.2 percent with 314 votes separating the two candidates. Voter turnout is now at 8.2 percent with 14,556 votes counted for Assembly District 52.