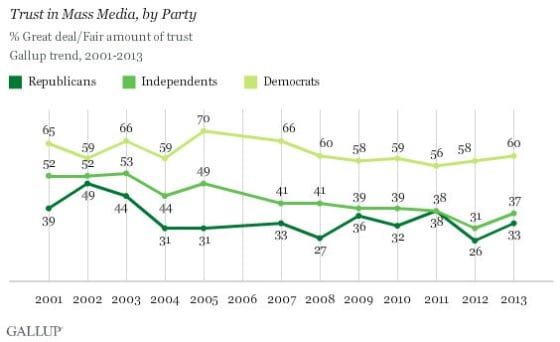 According to a recent Gallup poll, a majority of Americans do not trust the mass media to present news accurately, fairly, and fully. While the number did increase slightly from 2012, only 44 percent of Americans say they have some degree of trust in the mass media.
To the surprise of some, the bump in overall confidence in the media is the result of an increase in confidence from independents and Republicans. Thirty-seven percent of independent respondents said they trust the media, an increase of 6 percentage points since 2012.
Still, a clear majority of Americans say they have little to no confidence in the mainstream media to provide accurate news that tells the whole story fairly. Confidence in the media has been on a gradual decline for years and fell below 50 percent around 2007.
The Gallup poll asked responders to provide their perspectives on the ideological leanings of the mainstream media as a whole. A higher percentage of survey takers consistently say the media leans more to the "left." This, no doubt, is the reason why Republican trust in the media is never very high, but is Gallup fully examining the issue?
Media bias is not the only reason more Americans are turning to alternative sources for their news, including online networks like IVN. After all, there are two other variables to the initial question that are not looked into deeper. Is news being presented accurately and fully?
The answer is no and it has become a consistent punch line for shows like The Daily Show with Jon Stewart.
Even the head of CNN admitted that while the network may have fumbled the coverage of the Boston bombing – and continues to do it with stories like the Navy Yard shooting – people continue to come back. So, the mainstream media is willing to jump the gun on a news story and get the information wrong as long as they continue to pull in ratings.
After all, you can just correct yourself later, right?