Pope Francis in Brazil, July 2013 // Credit: Agência Brasil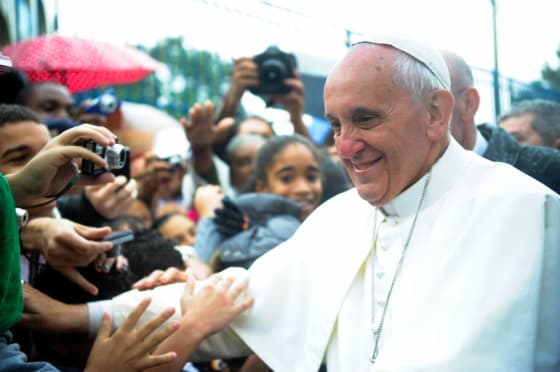 The libertarian approach to social issues seems to be gaining steam, even with vestiges of traditional order like Catholic Church. In a broad sense, the appreciation and adherence to traditional values, but not violating others' liberty is what aligns Pope Francis here.
In an exclusive interview with America Magazine, published Thursday, Pope Francis revealed a libertarian undercurrent to his philosophy on social issues like abortion and gay marriage, yet reaffirmed the church's position remains consistent.
"We cannot insist only on issues related to abortion, gay marriage and the use of contraceptive methods. This is not possible. I have not spoken much about these things, and I was reprimanded for that. But when we speak about these issues, we have to talk about them in a context. The teaching of the church, for that matter, is clear and I am a son of the church, but it is not necessary to talk about these issues all the time."
Pope Francis' stance sounds somewhat similar to Ron Paul's comments made during the presidential campaign, "Biblically and historically, the government was very uninvolved in marriage. I like that. I don't know why we should register our marriage to the federal government. I think it's a sacrament. I think it should be biblical, and politically I don't like to fight with people who disagree with me, as long as they don't force their views on me."
The two most divisive culture war topics in American politics have been a hotbed for political mudslinging for decades. The Pope appears to recognize the tension, and said focusing on such topics are a recipe for disaster.
"The dogmatic and moral teachings of the church are not all equivalent. The church's pastoral ministry cannot be obsessed with the transmission of a disjointed multitude of doctrines to be imposed insistently.... We have to find a new balance; otherwise even the moral edifice of the church is likely to fall like a house of cards, losing the freshness and fragrance of the Gospel."
Such a strategy has swept the American political scene as well. More politicians have opened up to the prospect of legalizing same-sex marriage over the last few years. Republicans like Justin Amash (R-Michigan) and Susan Collins (R-Maine) contend that it isn't the federal government's place to interfere.
Republican lawmakers are toeing a similar line to Pope Francis when it comes to social issues. Each face a base of supporters historically hostile to socially liberal ideologies. Yet, traditional attitudes on social issues are eroding as consensus continues to grow in the direction of greater personal freedom.
So is Pope Francis the Ron Paul of popes? Not exactly but he's probably about as libertarian as the papacy can get.