In U.S., Most Would Still Work Even if They Won Millions // Credit: Gallup, Inc.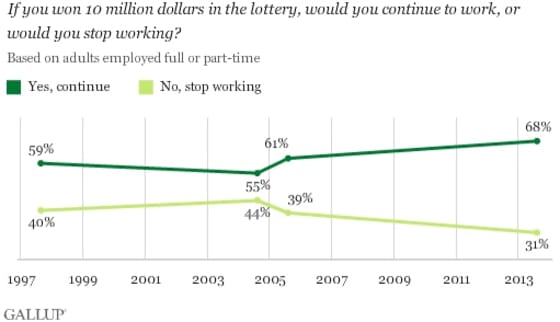 If you won 10 million dollars in the lottery, would you continue to work, or would you stop working?
You have two seconds to answer this; if I could win $10 million what would I do?
According to Gallup 68% of those questioned would continue to work if they win 10 million dollars.
Gallup also proffers some thoughts as to why they would do so if they win 10 million dollars; including:
"This This value American workers appear to place on working clearly plays out in reality, as some winners of the recent $448 multistate Powerball lottery did indeed decide to keep working. Susan Nickel, 63 years old, was one of the winners in New Jersey, but told reporters that while she would urge her husband to retire, she, personally, would continue working. On the other hand, winner Paul White of Minnesota was representative of the minority of workers across the country, saying he didn't "want to work for anybody else for the rest of my life for a paycheck." 
"It is also possible that the perceived value of winning $10 million may be less now than in past iterations" 
While polls can provide valuable insight, I've always been a bit leery about them due to the way most ask questions, most prompting answers that are not quite as genuine as they appear on the printed results.  For example, the question asked;
"If you won 10 million dollars in the lottery, would you continue to work, or would you stop working?"
On the surface, given the circumstances of our culture, this is a valid question, but I personally think if the question was entirely open-ended like this;
"If you won 10 million dollars in the lottery, what's the first long-term decision you would make?
Rather than priming the answer, an open-ended question would show entirely different results.
Now; go back to my original question; if I could win 10 million dollars what would I do?  What was your answer?  Did it align with those of the Gallup poll?
I know mine certainly would not have.  Granted, I do fall into the category of the "baby boomers" which weighted the results toward the answer "stop working," but priming answers with leading questions provide results, intentionally or not, often don't show a clear result.
I was a major workaholic and loved my career and for many years worried that I would one day "have to retire," but it took about two weeks to learn that there were far more enjoyable ways of living life than "answering to the man" such as writing on IVN :-)
My answer, if you're interested, is; "I would purchase another ticket, this time a one way ticket to Dalcahue, Chile, live on seafood, hike, explore, learn the culture, leave my watch and calendar home and never believe results from another survey/questionnaire again."
Just think; no more "travel by Google Earth."  I'll send pictures.  I promise.
Dalacahue on Chiloé Island, Chile // Courtesy Wikipedia
Dalacahue on Chiloé Island, Chile // Courtesy Wikipedia