Secretary Kerry (center), Israeli Justice Minister Livni (right), and Palestinian Chief Negotiator Erekat (left) Address Reporters // Credit: USA.gov via Flickr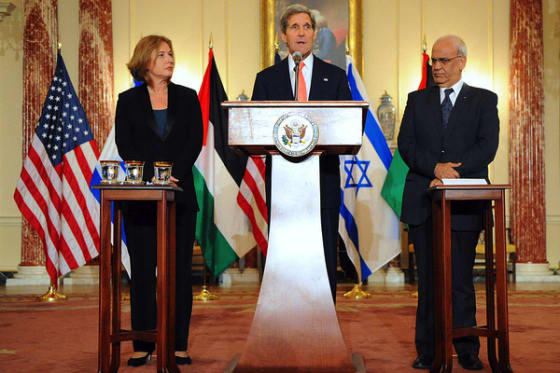 A July 31 Gallup poll found that a substantial majority of Palestinian adults expect that permanent peace between Israel and Palestine will never be reached. Only 17 percent of Palestinian adults believe that peace between the two sides will be attainable. Moreover, Israelis are not optimistic either. A survey from October 2012 discovered that but 29 percent of Israelis trust that composure between the two groups will be realized.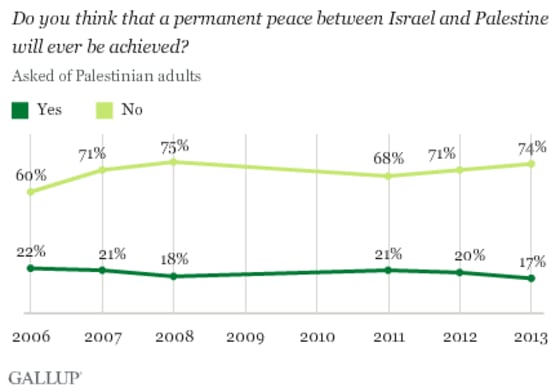 However, Gallup also found that though many Palestinians are pessimistic of promises for enduring equanimity, a higher percent are convinced that a peace treaty between the two groups will further Palestine for the better.
In fact, 80 percent of Palestinians agree that concord between both Israel and Palestine is "very important" for the protection and welfare of Palestinians. In other words, though many in Palestine find achieving peace with Israel a hopeless cause, most believe that such a change in relations would bolster the safety, economic well-being, and foreign relations of Palestine.
All this comes at a crucial time for Palestine and Israel. By way of Secretary of State John Kerry's repeated visits to the Middle East and his insistence that peace talks resuscitate, a nine-month period of negotiations between Israel and Palestine resumed Monday after a three-year gap. However, similar to an overwhelming percent of Palestinians, many officials from both sides are very skeptical any major deal will be made.
Abed Rabbo, a Palestinian official close to PA President Mahmoud Abbas said that these upcoming rounds of negotiations bring "huge difficulties." On the other side, the Israel Foreign Ministry told an Israeli newspaper that an agreement is "highly unlikely."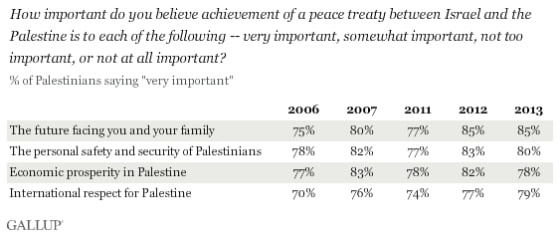 Conversely, Secretary of State John Kerry and other high-ranking U.S. officials are anticipating these upcoming negotiations to be a success. They believe that the disconcert and uncertainty emanating from Syria and Egypt, countries who find themselves on the doorstep of Israel, will prompt Palestine and Israel to come to accords for security reasons.
The threat from Palestine and its numerous political factions, coupled with the various extremist groups brewing in Syria, many experts believe, will engender Israel to compose a reasonable offer; one that will include the establishment of Palestine as a sovereign state and "right of return" for Palestinian refugees.
Nevertheless, skepticism over the peace talks is still duly found when one realizes how many peace negotiations between Israel and Palestine have been tried. Many have been followed by riots and bloodshed—one by an assassination. It is noticeable why Palestinians are pessimistic about the future.
These peace talks have the ability to change the political, economic, and societal landscape of Israel and Palestine. The next nine-months will either affirm the beliefs of 74 percent of Palestinians, or they will bring about a communal breakthrough for Israelis and Palestinians.