Robert F. Hale (right) comptroller and chief financial officer at the DOD, and Jessica L. Wright (left), acting undersecretary of defense for personnel and readiness // Credit: Defense.gov via Chad J. McNeeley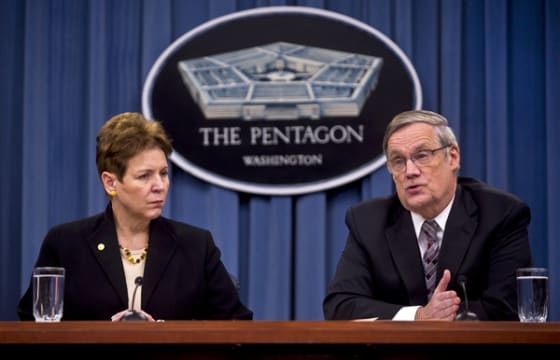 A Gallup poll measuring American's attitudes on the impact of the sequester was released Tuesday. The survey of over 1,000 voting age adults, gauged perception what effect, if any, sequestration has had on the United States economy since going into effect on March 1.
Independents remain largely unsure whether or not the $85 billion in government spending cuts have been positive or negative for the country. Fifty-five percent of independents "didn't know enough to say." Of the independent respondents who did have an opinion, 27 percent viewed the cuts negatively, and 17 percent characterized it as a, "good thing."
When asked how respondents had been effected personally, the results were similar and fell within the poll's five percent margin of error. Sixty percent of independents who responded to the survey didn't have enough information to answer. Likewise, 11 percent viewed the personal impact of the sequester positively whereas 26 percent saw it negatively.
When looking at the country at large, most Americans say they "don't know" as well, nearly mirroring the attitudes of non-affiliated voters. Overall, 59 percent of respondents 'didn't know,' 27 percent viewed the sequester's personal impact as negative, and 11 percent felt it was positive.
credit: Gallup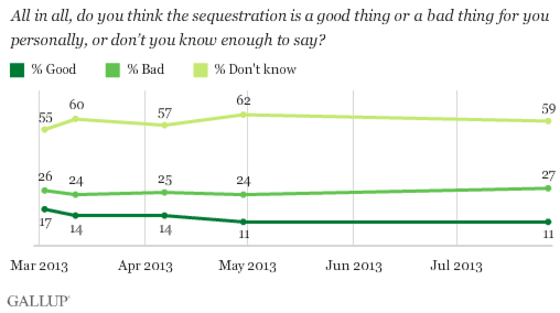 Few Americans seem to have gotten the information necessary to form an opinion on the matter. Given the considerable amount of media attention dedicated to sequestration this year, the question needs to be asked what useful information made it to voters leading up to the March 1 deadline.
This week a letter to Chris Van Hollen by the Congressional Budget Office confirmed many Democrats' assertions that reversing the cuts would save jobs and help bolster the economy.
"[Cancelling the cuts] would increase the level of real (inflation-adjusted) gross domestic product (GDP) by 0.7 percent and increase the level of employment by 0.9 million in the third quarter of calendar year 2014"
Congressional Republicans remain unconvinced. Senate GOP budget spokesman, Andrew Logan, told the Hill, "We have been unable to generate such rosy results using any of the conventional modeling tools that economists routinely use."
While both sides argue over the potential consequences of sequestration, the fact remains that most voters are still uninformed as to the policy's real consequences.