Asm. Das Williams, photo credit: http://www.asmdc.org/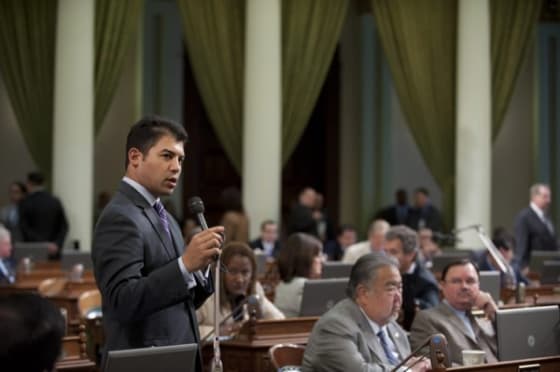 Assembly Bill 955 seeks to expand the availability of high demand college courses in California. However, the expansion would be made possible by higher tuition costs. Assemblymember Das Williams (D-Santa Barbara) is the lead author of the bill.
The bill would permit community college campuses to charge tuition at non-residency rates to cover the costs of holding extra classes during winter and summer sessions. Courses that typically have long waitlists and are required would be offered.
This expansion would not be funded by the state, which is why community colleges would need to charge a higher rate. State funds cover about 46 percent of total operating costs for community colleges.
The bill requires the hike to cover "actual costs," which are:
"[C]ost of instruction, necessary equipment and supplies, student services and institutional support, and other costs of the community college district used in calculating the costs of education for nonresident students."
Initial questions arise concerning an opportunity gap between financially stable and financially struggling students. Some have viewed the bill as an exclusive opportunity for students who can afford the higher costs.
To address the issue, in part, a portion of the money collected from tuition would be used for financial aid:
"In order to assist in providing access to extension courses for students eligible for the Board of Governors fee waiver, one-third of the revenue collected ... shall be used by the district to provide financial assistance to these students."
The California Assembly also offers an analysis of the bill. It includes a March 2013 PPIC report stating California community colleges have experienced new lows in enrollment which have occurred because of state budget cuts. Since 2008, community college course availability has been reduced by 21 percent.
Several community college districts gave an official position on the legislation. Notable supporters are the Long Beach and Riverside community college districts. Notable opposition comes from the Los Angeles and San Diego community college districts.
The analysis draws comparisons to extending and continuing education programs from the UC and CSU systems. These are class offerings outside of the typical UC and CSU schedule that pays for itself through student fees. However, comparisons should be taken lightly. Extension programs are intended for specialized areas of study and are not always congruent to the requirements of undergraduate study.
Current tuition for California community colleges is at $46 per unit; current non-residency rates are at $200 per unit. Classes are typically three or four units. Standard tuition rates still apply to the regular fall and spring semesters.
Judging from the bill's analysis and looking at proposed solutions to the issue, options are limited. California voters have already approved tax increases last election cycle to restore education funding. A simple increase in tuition is far too unpopular in the midst of already high rates and a struggling economy.
California community colleges would not see much benefit in raising the standard rate of tuition. Only six percent of community college funding is made up from tuition revenue.
AB 955 is one of the few possible solutions offered by the state legislature to answer the issue of course availability. Senate pro Tem Darrell Steinberg has led efforts to expand online classes by partnering with private online course providers.
Asm. Williams was contacted for comment, but has not yet responded.
On May 1, the Assembly Appropriations Committee will hold a hearing regarding AB 955.
Is there a solution to the limited availability of vital college courses the state and its officials have not discussed?
(Assembly Bill 955 can be downloaded and read in full here.)