Screenshot of GuardianWitness' Citizen Journalism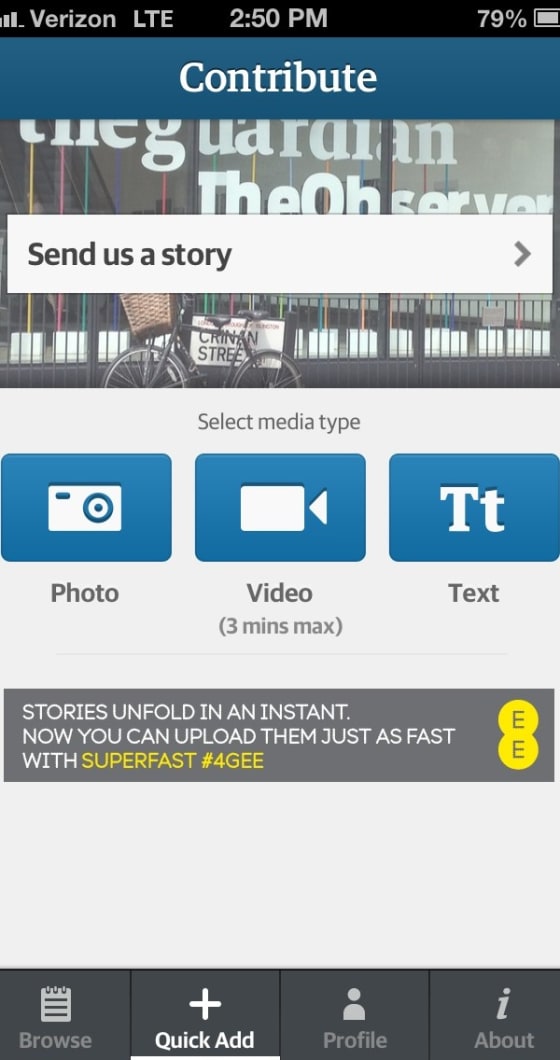 With print media on the verge of extinction, social media has given rise to a new form of journalism: Citizen journalism. Reliant on the dissemination of information on social media, citizen journalism allows every-day citizens to assume the role of reporter, using technology to create and share the news.
In the most recent example of citizens journalism, narratives from the Boston bombing were constructed through photos, tweets, Facebook updates, Reddit threads, and digital media, uploaded by every-day citizens.
While news reporters sifted through the online chatter to make sense of the series of events surrounding the tragedy (unsuccessfully), citizens on the ground provided audiences worldwide with real-time updates of the event, straight from the source.
This isn't an isolated event. We've witnessed the exponential rise of social media as a tool for journalists, both trained and untrained, to spread valuable content. Because of this trend, the UK's Guardian has created an app expediting the publishing process for citizen journalists.
GuardianWitness characterizes itself as user-generated content for the Guardian. "You can contribute your video, pictures and stories, and browse all the news, opinions and creations submitted by others. Posts will be reviewed prior to being published on GuardianWitness, with the best pieces featured on the Guardian site," the GuardianWitness clarifies on its about page.
You are given the option to report on assigned stories or submit your own content, all of which will be reviewed by a member of the Guardian staff. Of course, entrusting something as prestigious as the news to citizens does not come without its risks. There is always room for false reporting, factually incorrect input, and contextual misinterpretations, a reality made all too real by the abundance of false reporting in the wake of the Boston bombing.
But if the recent Boston reporting mishaps with CNN and Reddit can teach us anything about citizen journalism, it's the need to verify the facts.
With 45% of adults using smartphones in the US, would this be a good idea for American journalism?