Earlier this year, the American public was polled on the president's proposals for new gun legislation. People were given a list of initiatives and asked if they would vote for the measures or not. When asked about universal background checks, 91 percent of Americans said they would vote in favor of the proposal.
Despite the national popularity of the gun reform, it did not pass the Senate. While the percentage of Americans who support universal background checks has declined, according to Gallup, a decisive majority of Americans believe it should have passed the Senate.
A Gallup poll, conducted between April 22-25, surveyed over 2,000 adults with the question: "Do you think the Senate should or should not have passed the measure to expand background checks for gun purchases?" Sixty-five percent of respondents answered the Senate should have passed it while twenty-nine percent agreed with the Senate's decision.
Credit: Gallup
While sixty-five percent believe the Senate should have passed a background check expansion, eighty-three percent said they would vote for the measure if given the opportunity to do so on Election Day.
Furthermore, more opponents of the Senate bill cited the Second Amendment as the reason for their opinion on the subject over everything else. Forty percent of respondents who support the final Senate vote said expanding background checks violates the right people have to own a gun. The second most popular reason -- at 23 percent -- was the belief that the government should increase enforcement of current laws before adding new ones.
Most of the responses given by those who said the Senate should not pass a measure on the issue had more to do with the effectiveness of the bill rather than the content of it. This is an important factor to keep in mind when breaking down the poll results
Interestingly enough, Gallup reveals that most Americans, regardless of political affiliation, would rather vote on background check expansion than support the passage of a bill in the Senate.
While fifty percent of Republicans said the Senate should not have passed the bill, seventy-three percent said they would vote for the proposal as a ballot referendum. Eighty percent of independents said the same thing.
Credit: Gallup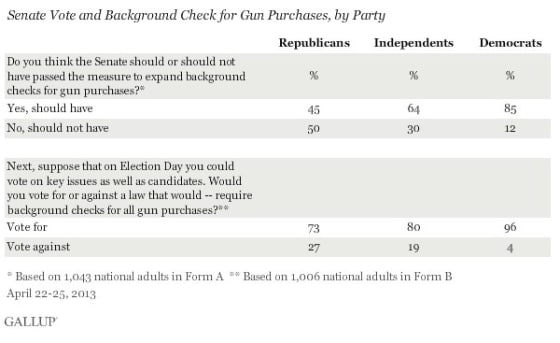 The results are a bit puzzling, even for the people at Gallup. Ultimately, most Americans agree with the fundamental concept of background checks for all gun transfers, but people would rather vote on it than have Congress pass a law.
The questions this poll raises would likely be answered in the reasons opponents of the Senate bill gave for opposing the legislation. In theory, Americans believe that expanding gun background checks to private sales is the right thing, but the results differ when talking about the practical applications of a new law.