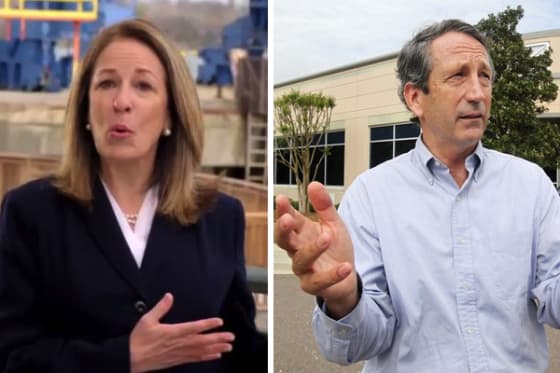 FEC filings from Republican Mark Sanford and Democrat Elizabeth Colbert Busch tipped the $2 million mark Thursday. To date, Colbert Busch has raised almost $1.2 million and Sanford is trailing at about $750,000.
Although Colbert Busch has out-raised Sanford almost 2 to 1, the former governor has more cash left on hand. According to filings, Sanford has about $285,000 on hand, whereas Colbert Busch is down to about $255,000.
The special election for South Carolina's 1st congressional district has drawn national attention. Not only due to Colbert Busch's relationship to Comedy Central star -- and brother --  Stephen Colbert, but Sanford's colorful personal history has not been easily forgotten by commentators.
The latest poll by Public Policy Polling in the 1st congressional district shows Sanford lagging behind Colbert Busch -- 41 percent for Sanford to Colbert Busch's 50 percent. Green Party candidate Eugene Platt is at 3 percent while the margin of error for the poll was +/-3.5%.
Early examinations of the race favored Sanford to win the heavily Republican district in spite of his 2009 Appalachian Trail foul up. Yet, a recent mishap concerning Sanford and his ex-wife has left his campaign reeling.
The ordeal prompted a full-page ad in Sunday's Charleston Post and Courier apologizing for the incident. Sanford's personal proclivities have partially handicapped his fundraising potential as a result.
Nevertheless, South Carolina Republicans may not be jumping to Colbert Busch, but they probably won't be showing up on the May 7 election day either. Public Policy Polling reports:
"Interestingly the events of the last week haven't hurt Sanford too much with Republicans though though 65% say the trespassing charges don't give them any doubts about him, and his favorability with GOP voters have actually improved from 55/39 a month ago to now 61/32"
According to the poll, Colbert Busch is viewed favorably amongst independents, enjoying a 51 to 35 advantage over Sanford. Similarly, she's made some inroads with Republicans whereas some Sanford supporters may simply not be motivated to show up on election day.
"She's winning over 19% of Republicans, while losing just 7% of Democrats. And it also seems that after last week's revelations about Sanford that a lot of GOP voters are planning to just stay at home."
Less than 10 days remain before voters in South Carolina's first district cast ballots for what has surprisingly become a fairly competitive seat. Whether or not Sanford's personal proclivities will sink his comeback chances remains to be seen.