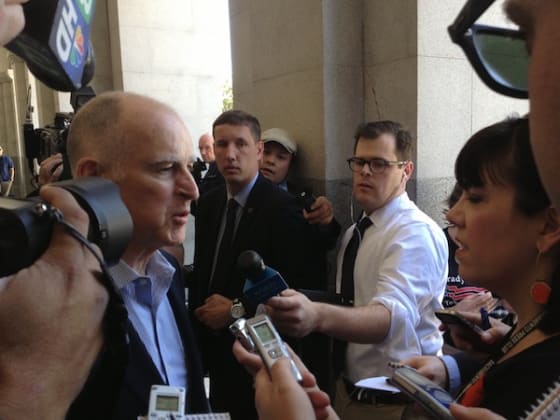 On Tuesday, the nonpartisan Legislative Analyst's Office (LAO), reported that California will end the month of April $4 billion ahead of initial estimates. However, Governor Jerry Brown was quick to caution people to exercise restraint since the increase in revenue may not be as much as it appears.
Gov. Brown turned attention to California Proposition 98, which requires a minimum percentage of the state budget to be allocated to K-14 education. Also known as the Classroom Instructional Improvement and Accountability Act, Prop. 98 was approved by voters in 1988.
The governor responded to a reporter's suggestion that he must be happy with the additional revenue. Gov. Brown waved this off:
"The revenues, guys, wait 'til the May revise," he told reporters. "We have a very complicated mechanism called Prop. 98, and depending upon how the money flows, it may ... not be as available as many people are now thinking."
Under Prop. 98. a minimum of 40 percent of California's general fund spending is required to be spent on education. The actual percentage of the general fund spent on education is somewhere between 52-55 percent. The proposition uses specific tests to determine how much funding should be allocated to public education.
In years of economic growth, Prop. 98 requires spending on education to equal the amount of the previous years plus per capita growth and student enrollment adjustment. In years of weak economic growth, it not only guarantees the same level of spending as the previous year, but increases spending for any change in per capital general fund revenues or an increase by 0.5 percent in state general funds.
According to the LAO, most, if not all, of the revenue gains may be required to be allocated to k-12 public education and community colleges. As a result, "this fiscal year's strong revenue performance may have little, if any, positive effect for the state's financial bottom line."