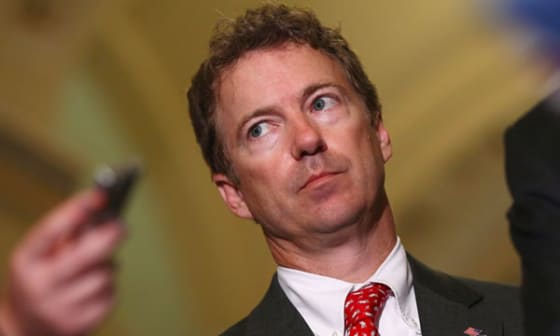 The first presidential straw poll was held in Nashville, Tennessee last weekend. Out of 373 votes cast, Rand Paul won 219. Last Friday, Rand Paul won the Presidential straw poll at the Pennsylvania Leadership Conference, also with a majority. Victory comes after Rand Paul won the more prominent CPAC Presidential straw poll.
Sen. Rand Paul came onto the political scene in 2007 while giving stump speeches for his father, Ron Paul. After the his father's unsuccessful run, he went back to his ophthalmology practice in Kentucky. He had no intention of running for office at the time.
But, after a successful "draft campaign" conducted by some of his father's supporters garnered over 30,000 online signatures and "pledges" to donate to his campaign if he would run, Rand Paul took a stab at a political career. And his first race was an ambitious one. He had to take on Senate Minority Leader McConnell's hand-picked replacement of the retiring Senator Jim Bunning, then Secretary of State Trey Grayson.
Since being elected to office, Paul and McConnell have grown closer. McConnell even gave his support for Paul's now famous anti-drone filibuster last month. Rand Paul, in return, has endorsed McConnell for his 2014 re-election bid, effectively preventing a Tea Party opposition to his incumbency.
For several months, multiple groups of libertarian supporters have been pushing for a Rand run at the presidency, including a super PAC called "Human Action," named after a treatise by the father of Austrian economics, Ludwig Von Mises.  The PAC is headed by Anthony Astolfi, who helped draft Rand Paul for his bid in 2010.