Detroit Skyline // credit: gm-volt.com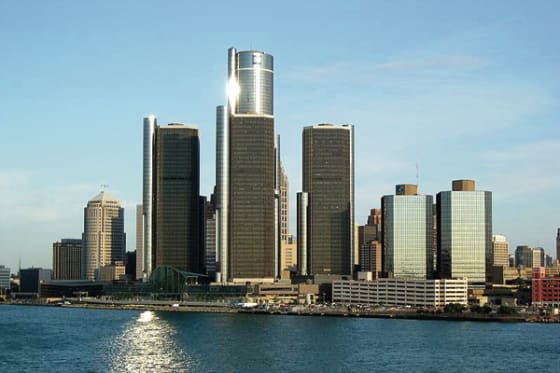 For those who fear any law that minimally infringes on one's right could engulf that right all together, Michigan's Emergency Financial Manager Law proves this point. An Emergency Financial Manager (EFM) is similar to what is known as a receiver.
A receiver is an individual appointed by an outside entity (a judge, governor, or committee of the governor) to take over a city or local government's finances when they get in trouble. Instead of being appointed a receiver, struggling cities typically go through bankruptcy. However, only 40 cities have declared bankruptcy in the last 30 years, though ten have occurred in the past 3 years.
While some favor receivership in part because it saves a city's bond credit rating, others favor bankruptcy because it maintains democratic rights.
Steven Greenhut, vice president of the conservative-leaning Journalism for the Franklin Center for Government and Public Integrity, explained it best when he said "Democracy is messy, but dictatorship offers greater  pitfalls." He goes on to say "there is no magical formula to bypass the human condition." The history and effectiveness of Michigan's Emergency Manager law seems to prove his point.
Michigan's first Emergency Financial Manager Law (Public Act 101) was enacted in 1988 by Governor James Blanchard, a Democrat.  The law gave Emergency Financial Managers broad powers, including the ability to sell off city assets, eliminate departments, and reduce or eliminate pay to the local mayor and city council.
One thing it did not allow was the cancelling of labor contracts already in place, though it did allow for the ability to renegotiate them. In 1990, Public Act 72 expanded the law to allow for the takeover of public schools.
In 2011, Republicans took control of every branch of Michigan's government and replaced PA 72 with the "Public Act 4 of 2011."  Public Act 4 gave the Emergency Manager the ability to cancel contracts and also to make non-financial moves (they dropped the word financial from the title).
In Benton Harbor, the Emergency Manager did not allow the mayor to enter his own office and prohibited the city council from taking virtually any action, even if it did not have financial implications. While this did not take away an individual's right to vote for their elected officials, it made their vote essentially meaningless.
Voters were not a fan of the law and repealed it via referendum in November 2012. In less than two months, state Republicans arguably defied the will of the voters and passed a new Emergency Financial Manager Law known as "Public Act 436."
The new law gives local school districts and cities a bit more freedom. School districts can get rid of their EFM after 18 months and cities have options besides EFMs, including filing for bankruptcy. The new law also included a legislative trick to take away the ability of voters to repeal it.
Michigan activists are still battling the law. There are lawsuits in the state court alleging, among other things, that the recent appointment of an Emergency Financial Manager for Detroit violated the Open Meetings Act.
There is also a federal lawsuit underway alleging the law violates the Equal Protection Act of the U.S. Constitution since a majority of the state's African-American residents are now under the authority of Emergency Financial Managers.
The Emergency Financial Manager law also lacks a strong track record for success. The City of Highland Park is on its third Emergency Financial Manager since 2001. One of their former EFM's recently accepted a plea bargin for allegedly embezzling money from the city. The City of Pontiac is also on it's third Emergency Financial Manager.
Former EFM Michael Stampfler said the law is destined to fail because it does not leave a well functioning government in its place. Current Pontiac EFM Louis Shimmel was actually a receiver for the city of Ecorse prior to the first EFM law. Shimmel's supposed success as a receiver for Ecorse was likely used to codify the original Emergency Financial Manager law. Ecorse though, has not had sustained success and is once again under an Emergency Financial Manager.
So why should you care about Emergency Financial Managers if you live outside of Michigan?  Because we live in an era where "model legislation" is being passed around from state to state like a football at a tailgate party.
The legislation will likely be pushed by the business community in your state because they benefit most from the law since the largest savings implemented by Emergency Financial Mangers come from privatizing services.  The fundamental question each state must answer is do they value capitalism or democracy more?  Michigan, whose Governor is a venture capitalist, favors capitalism.  What will your state chose?