The Associated Press' Twitter account is the latest victim of online hacking, with a tweet falsely reporting that two explosions hit the White House, reaching the accounts 2 million followers this afternoon.
The tweet has since been removed, but its impact was not contained to Twitter. The stock market took a blow after the tweet was sent, with the Dow Jones Industrial dropping more than 100 points in a matter of minutes.
Moments later, Press Secretary Jay Carney reported that "the president is fine, I was just with him," leading to a speedy recovery for the market.
The series of events is illustrated by the below screenshot, courtesy of Bloomberg: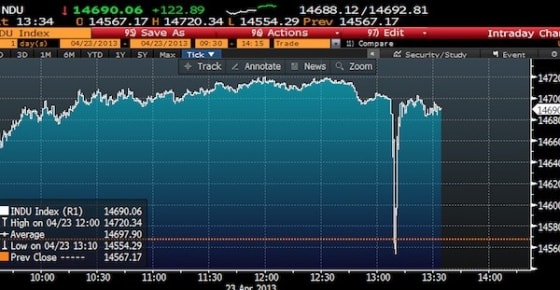 The Syrian Electronic Army, or SEA, has taken responsibility for the hacker attack, the same group responsible for this weekend's hacked @60minutes account, reports the LA Times.
Using Twitter as a tool of political resistance is not uncommon, but with Twitter hackings becoming the norm, how should Twitter respond?