Photo: Alex Washburn/Wired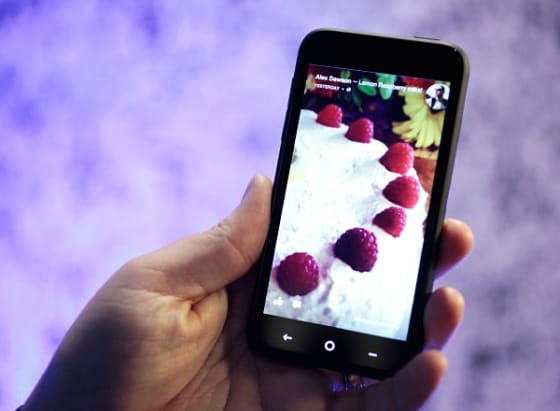 Facebook has heard the cries for a mobile-friendly interface, and has finally responded with what they call Facebook Home. Facebook Home is an interface for Android smartphones which replaces your lock and home screens with status updates and photos from your friends.
Its new interface creates a "layer" allowing you to chat with your Facebook friends while using other mobile applications in a function called Facebook Chat Heads (integrated into the Facebook Mobile iOS app).
Also released on April 12th, the HTC First, or the "Facebook phone," is the first phone to come with Facebook Home preinstalled.
Sound intrusive? That's because it is. "Our phones are designed around apps, not people. And we want to flip that around," Mark Zuckerberg explained when revealing the new product.
In the most recent advertisement, the creators depict how Facebook Home transforms a seemingly boring family event into a journey through the lives of the users' friends and family online.
http://www.youtube.com/watch?v=voWvqBsyYbE
Within two week of its release, Facebook Home has been downloaded by 500,000 users. Before passing judgement, consider that it's currently only available to Android users. Also consider that with over 1 billion users, Facebook is the largest social network in the world.
Considering Facebook's monumental user base, does 500,000 downloads live up to the hype? Not really.
To put it into perspective, Mashable did the math, although they seem to have misplaced a decimal point. With over a billion users on Facebook, and half a billion Android users with active accounts, this number represents 0.1% of potential users.
That means out of those with the ability to download Facebook Home right now, only 1 in 1,000 did.
Think back to when Instagram launched on Android smartphones. The mobile-only app hit over 1 million downloads in one day.
Maybe our expectations were too high for Facebook Home, but with one-seventh of the world's population already using the network, 500,000 downloads is no reason to celebrate.
Will you use Facebook Home on your smartphone?