credit: Ed Barker, U.S. Navy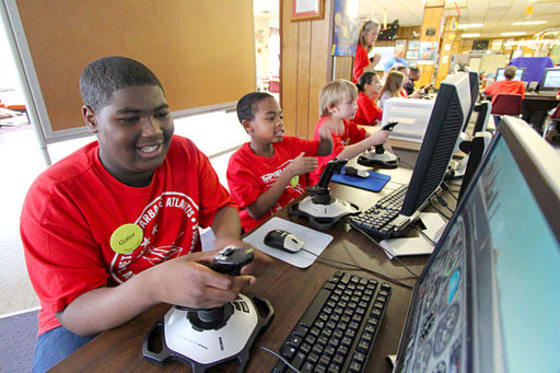 As part of the government's goal of preparing students for a STEM-based economy, the Obama administration has committed $3.1 billion to improve STEM education nationwide. Roughly $450 million will be directed toward boosting the number of trained educators and developing new programs aimed at getting students interested in career fields in science, technology, engineering, and mathematics.
In his State of The Union address, President Obama stressed the need to focus American education on STEM fields in order to make the nation globally competitive.
"Let's also make sure that a high school diploma puts our kids on a path to a good job.  Right now, countries like Germany focus on graduating their high school students with the equivalent of a technical degree from one of our community colleges, so that they're ready for a job.  At schools like P-Tech in Brooklyn, a collaboration between New York Public Schools, the City University of New York, and IBM, students will graduate with a high school diploma and an associate degree in computers or engineering," he said.
Most of the funding will be directed toward teacher-preparedness and curriculum, including expanding resources to science and math teachers, as well as enlisting the help of the nation's top STEM educators to develop innovative methods to teach the subjects.
The administration plans to redirect funds from several agencies to the Department of Education to establish focused initiatives. By consolidating 114 individual STEM programs across eleven agencies, the administration looks to make federally-mandated STEM programs more efficient to serve the needs of America's students.
The Defense and Energy departments, EPA, and Nuclear Regulatory Commission will see a greater percentage in the reduction of its STEM budgets as a strategy to consolidate, reorganize, and restructure 226 agency programs down to 112 with savings of about $180 million.
Much of the programs are focused on building the number of STEM teachers and educators. $80 million dollars will be directed toward a STEM Teacher Pathways program to provide grants to recruit and train 100,000 teachers over the next decade.
The budget also calls for a $35 million pilot program called STEM Master Teacher Corps, which would find and reward the nation's top math and science teachers who would then become members of a network of STEM educators who would be instructional leaders in their schools and receive additional pay as an incentive for their work.
Another $5 million will go to developing the STEM Virtual Learning Network (STEM-VLN) which would create a network that would reside primarily online to connect STEM educators to share ideas, teaching strategies, and research.
About $150 million would be used to create STEM Innovation Networks which would connect colleges and universities with high schools and other local and regional educational organizations to create cohesive STEM initiatives and teacher support from the state to federal level.
Other funds in the budget would go toward expanding existing programs, including $30 million for the Improving Mathematics Achievement and Transition to College from High School (IMATCH) program, a joint initiative between the National Science Foundation and Education Department to create practices that improve student achievement.
credit: Department of Education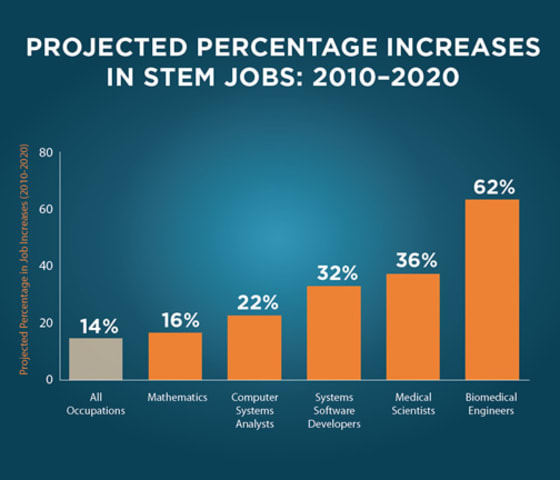 All of these initiatives are indicative of the government's push to engage in building a national STEM-based economy and redirect national educational goals from K-12 through college that position America's students for the next wave of tech jobs.
The administration claims that only 16 percent of America's high school seniors are proficient in math and interested in STEM careers. They also cite national statistics that show the U.S. ranking 25th in mathematics and 17th in science among industrialized nations.
According to the Education Department, by 2020, the U.S. will see job increases in several STEM fields, including computer systems analysts, systems software developers, and medical scientists. Biomedical engineers will see the highest rate of growth at 62 percent.
As companies seek the best talent to fill job vacancies in science, technology, and engineering, the Obama administration looks to take the lead in using the full force of the government to systematically transform the nation's schools and rebuild America's infrastructure for the future.