In 2012, California employed 43,700 people in the solar industry, which is 37 percent of the national total. In 2012, the United States had 119,000 solar-related jobs, an increase of 13.2 percent in one year.
The Solar Foundation released a report that contains the first-ever count of solar workers in each of the 50 states, analyzing job growth and highlighting policies that have been successful in creating solar employment.
The Solar Foundation produced the following State Solar Jobs Map
Credit: http://thesolarfoundation.org/solarstates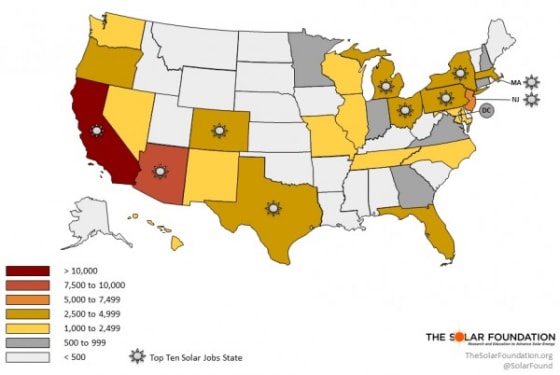 California leads the country with 37 percent of the 119,000 solar jobs, far above Arizona, which ranked number two with 9,800 jobs. California installed 1,033 megawatts of solar electric capacity in 2012, bringing its total production to 2,902 megawatts. California also ranks number 1 in the number of homes powered by solar power with 626,000 homes.
California's share of the market can be partly explained by its weather conditions, but only partly. In 2012, $2.6 billion was invested in California solar capacity, a 31 percent increase from the previous year. These investments are expected to continue to grow. Moreover, pro-business policies that have helped drive prices down combined with increased demand has led to job growth.
California might be most well known for its cinematographic industry, but now the State employs more solar workers than actors.