Credit: Steve Silva / Facebook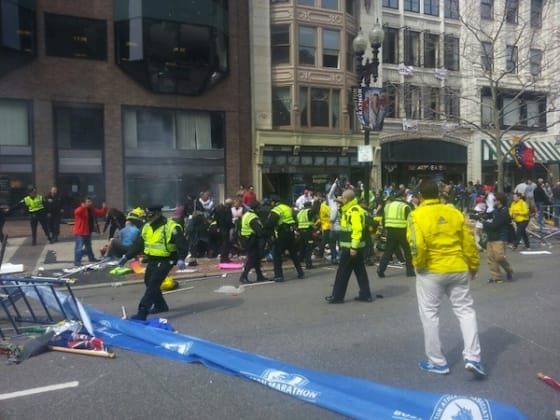 For Massachusetts, April 15 is more than Tax Day; it's Patriot's Day and it's Marathon Day. It's a day when thousands of competitors run 26 miles from small-town Hopkinton into the heart of Boston.
However, after Monday's bombings, April 15 will take on a whole new meaning for the citizens of Boston.
Two bombs detonated simultaneously at the Boston Marathon's finish line at 2:50 PM EDT, about four hours after the third and final 'wave' of 9,000 contestants started running.
Video of the explosion shows a cloud of dust shooting upwards in front of a building. Moments later, most panicked bystanders fled the area while a few joined police, National Guardsmen, and EMTs in ripping away the metal barricades separating the sidewalk from the street, and began rescuing the victims.
So far, three people have been killed by the bombings and over a hundred have been sent to area hospitals.
Another explosion and a fire broke out at the JFK Memorial Library's Museum near the initial explosions. The fire was quickly extinguished, and no injuries were reported. By Monday night, officials had not determined whether the incident was linked to the finish line bombings.
At 5:43 PM, Boston Logan International Airport announced over Facebook that the cautionary ground stop ordered by the FAA was lifted and air travel to and from the airport would resume with delays. There is still a no fly zone over the investigation scene.
At a 6:00 PM press conference, President Obama said all federal resources would be available to Massachusetts authorities. FBI Director Robert Mueller, Homeland Security Secretary Janet Napolitano, and the ATF have also directed their agencies' resources to aid in the case.
At an 8:30 PM press briefing, Governor Deval Patrick and Boston Police Commissioner Ed Davis appeared clearly shaken, but composed. They said they had no suspects yet, despite several rumors, and announced the FBI had officially taken over the investigation. They urged anyone with information to call 1-800-CALL-FBI.
Patrick and Davis said Boston would be "open for business" on Tuesday, but commuters should expect delays and increased security along the MBTA, Boston's mass transit system. They also said a radius of several blocks around the bombsite would be cordoned off Tuesday to allow the FBI to investigate.
Commissioner Davis said "hard figures" of the number of casualties would be released Tuesday morning. He repeatedly denied rumors that Boston Police or the FBI had any suspects in custody or in any hospitals, stressing that investigators were only talking to witnesses.
FBI Special Agent Richard DesLauriers, who is in charge of the investigation, said the FBI was treating the situation as a criminal investigation, but he said it could become a terrorist investigation in the days ahead.
DesLauriers refused to comment on whether the FBI had any persons of interest or the number of explosives believed to still be on the streets. According to NBC, conflicting reports of how many other bombs had been found ranged from two to five. Boston Police are still searching the area for explosives. Any handbags or parcels left by fleeing runners and spectators will also be treated as potential explosives, which could have been left to injure relief workers.
Law enforcement and safety officials in New York City and London have also taken steps to increase security in case of any coordinated attack, which appear to be precautionary measures and not a response to any known threat.
In spite of the frenzy, many Bostonians have opened their homes to guests whose hotels were shut down due to safety concerns. A widely-circulated public Google Doc features area residents who leave their name, contact info, and neighborhood to connect with stranded guests looking for a place to stay.
Americans will wait anxiously for a suspect and a motive behind Monday's attacks. In the meantime, as the city grieves and recovers, more stories of kindness, bravery, and unity are likely  to come.
"Boston is a tough, resilient town, and so are it's people... Bostonians will pull together, and take care of each other and move forward. As they do, the American people will be with them every step of the way," President Obama said.
Anyone with information on the bombings should call the FBI hotline for the investigation at 1-800-CALL-FBI. Anyone seeking to contact loved ones in the hospital should call 617-635-4500.