Tax Day is not a day celebrated by many. In fact, it is a day many Americans dread. Very few people can honestly say they like to pay taxes, but according to Gallup, close to half of American taxpayers now believe what they currently pay is unfair.
On Monday, April 15, Gallup released results from its Economy and Personal Finance poll conducted nationwide between April 4-7, 2013. According to the results, a majority of Americans, 55 percent, still believe what they currently pay in federal income tax is fair, but the number has dropped to its lowest percentage since 2001.
Ten years ago, the percentage of Americans who believed their tax rate was fair was at 63 percent. This was not long after President George W. Bush signed tax cuts into law.
It may come as a surprise to learn that income level did not play a significant role in how people perceive income tax fairness. While households that earn less than $75,000 in annual income are more likely to believe their current tax rate is fair, the difference that separates this income demographic from households that earn more than $75,000 in annual income is only three percentage points, 57-54.
The only notable difference in how people view their current tax sitaution, according to Gallup, is based on political affiliation.
Of those surveyed, 66 percent of Democrats said the federal income tax they paid this year was fair. This is a considerable difference from the 49 percent of Republicans who said the same thing. While a higher percentage of Democrats and independents believe their income tax rates are fair, Republicans are clearly divided.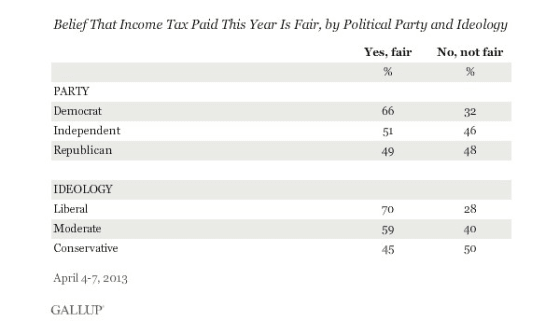 According to Gallup, the partisan gap widened after President Obama took office. At the end of President Bush's second term in office, the gap between Democrats and Republicans who believed the income tax they paid was fair was twelve percentage points. Today, the gap is seventeen percentage points.
Half of respondents also believe their current income tax rate is too high, which is relatively low when looking at the poll's history. However, Americans are more likely to believe their taxes will rise than they were last year. The percentage of people who expect a tax hike jumped from 53 percent in 2012 to 64 percent today.
As convoluted as the current tax system is for plenty of American households, many people agree that tax reform on the federal level is needed. However, as partisan division widens in Washington, the likelihood of sensible reform of any kind passing through Congress diminishes.