(Credit: Gage Skidmore)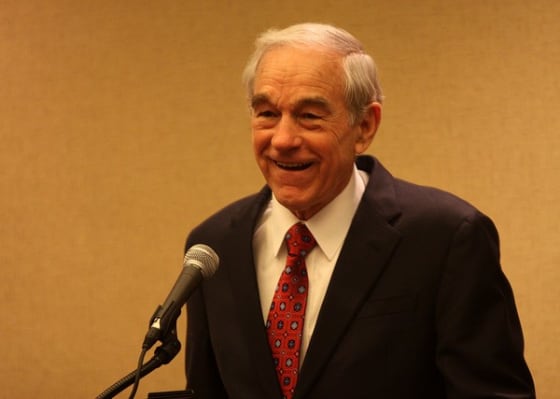 Next Wednesday, former Texas US Rep. Ron Paul will formally announce the creation of a new foreign policy think tank. It will be called the Ron Paul Institute for Peace and Prosperity.
According to the former congressman's office:
"It will fill the growing demand for information on foreign affairs from a non-interventionist perspective through a lively and diverse website, and will provide unique educational opportunities to university students and others. . . . "The neo-conservative era is dead. The ill-advised policies pushed by the neo-cons have everywhere led to chaos and destruction, and to a hatred of the United States and its people. Multi-trillion dollar wars have not made the world a safer place; they have only bankrupted our economic future. The Ron Paul Institute will provide the tools and the education to chart a new course with the understanding that only through a peaceful foreign policy can we hope for a prosperous tomorrow."
Paul will be the CEO. Daniel McAdams, who served as a foreign policy adviser to Rep. Paul for several years, will be the executive director. Serving on the board will be Fox News judicial analyst Andrew Napolitano and Faith Whittlsey, the former ambassador to Switzerland under President Ronald Reagan. Also on the board are US Reps. Walter Jones of North Carolina and Jimmy Duncan of Tennessee as well as former Paul staffer Lew Rockwell.
Another adviser on the board is former Ohio US Rep. Dennis Kucinich. Although a Democrat, Kucinich frequently worked with the Republican Paul on numerous common causes including the defense of civil liberties, restraining presidential war powers, opposition to drones, and Federal Reserve transparency.
According to some barometers, Paul's congressional career produced little in terms of the number of bills passed. However, in a period of approximately five years, he has gone from a relatively unknown back-bench representative to an influential figure within the party. Paul's fame first rose after a memorable debate exchange with former New York City mayor Rudy Giuliani in 2007 and the creation of his new institute is another phase in the career of an unlikely leader.
Although Paul retired from Congress earlier this year with a growing number of young, like-minded disciples. These include US Reps. Justin Amash, Thomas Massie, and Paul's son Rand, a US Senator from Kentucky.
Coupled with these protegees in government, Paul is expanding the reach of his philosophical worldview through other educational endeavors. In addition to the announcement of the foreign policy institute, earlier this month the former congressman unveiled a libertarian-themed home school curriculum that will eventually include K-12.
Paul will reveal more details of the foreign policy institute at a press conference on Wednesday, April 17 from the Capitol Hill Club in Washington DC.