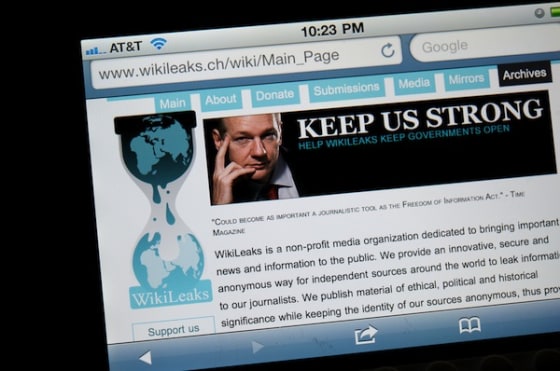 Juan Camilo Bernal / Shutterstock.com
Last week, Wikileaks released about two million formerly confidential documents, its largest release to date. It is part of Wikileaks'  Public Library of U.S. Diplomacy (PLUSD) which, according to Wikileaks, contains the largest database of U.S. diplomatic communications ever assembled.
The majority of these two million documents are from 1973 to 1976 and are referred to as the "Kissinger Cables." However, only about 200,000 of the cables actually refer to Henry Kissinger, U.S. Secretary of State under Richard Nixon and Gerald Ford. The moniker merely refers to the time period these documents concern.
Many of these documents contain sensitive information about the United States' involvement and influences in major political events. For example, they contain data on the Yom Kippur war fought by Israel, Egypt, and Syria, as well as the Vietnam War, the Cold War, and even parts of Watergate; probably one of the largest scandals of that decade.
Shortly after the release of the documents, Julian Assange, the founder of Wikileaks, released a statement on the group's website.
"The collection covers U.S. involvements in, and diplomatic or intelligence reporting on, every country on Earth. It is the single most significant body of geopolitical material ever published," Assange said.
Another major development from Wikileaks is the adoption of a search function for these documents. Before, it was difficult to search through specific records looking for keywords, but now, Wikileaks has sifted through almost one billion words and made the process much easier.
These documents add to the roughly 250,000 State Department cables from 2003 to 2010, which Wikileaks has dubbed "Cablegate." The documents reveal, among other things, that the United States had ordered the surveillance of certain U.N. leaders.
Although the release of these documents might seem like a tremendous breach in cyber security, this is not the case. In fact, the documents that Wikileaks released were already approved for public viewing by the U.S. In a public press release for the "Kissinger Cables," Wikileaks explains how they came to access these documents.
"Most of the records were reviewed by the United States Department of State's systematic 25-year declassification process," said Wikileaks in their press release. "Records were then subject to an additional review by the National Archives and Records Administration (NARA). Once believed to be releasable, they were placed as individual PDFs at the National Archives as part of their Central Foreign Policy Files collection."
Oftentimes, though, the government will actually reclassify documents (i.e. make them not viewable anymore) in the interest of public security. In a 2006 study, it was found that 55,000 declassified documents had been made classified again later.
Some believe Wikileaks is "going soft." Since the detention of informant Army Pvt. Bradley Manning, who leaked the infamous "Collateral Murder" video in 2009, Wikileaks has been sorely lacking in informants. Even with informants, however, Wikileaks is being constantly monitored by not just the U.S. government, but other governments worldwide.
Another problem facing Wikileaks is the lack of an anonymous submission system, which it has lacked since 2010. Reports indicate that most of its new material has been supplied by the hacker group Anonymous.
Nonetheless, these documents might come as something of a shock to those who thought Assange, currently under house arrest in Britain, was down and out.