Sen. Sheldon Whitehouse (D-Rhode Island) / credit: senate.gov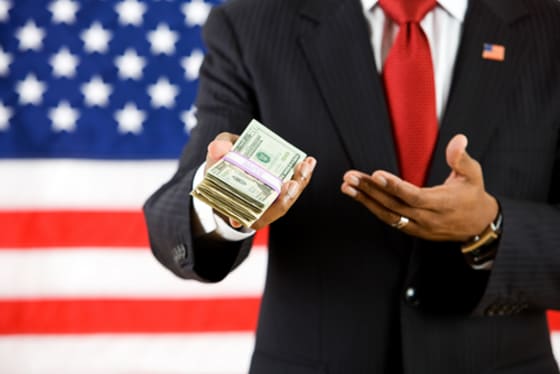 The Senate Committee on the Judiciary's Subcommittee on Crime and Terrorism held a hearing earlier this week examining the Federal Elections Commission's enforcement, or rather lack thereof, regarding campaign finance laws. Of the subcommittee's nine members, only two were in attendance: Chairman Sheldon Whitehouse (D-Rhode Island) and Ted Cruz (R-Texas).
Witnesses included Assistant Attorney General Mythili Raman from the Department of Justice, Patricia Haynes from the Internal Revenue Service, Lawrence M. Noble, president of Americans for Campaign Reform, a nonpartisan organization in favor of public funding for elections, Gregory L. Colvin of Adler & Colvin, a law firm specializing in nonprofit organizations, and Bradley A. Smith from the Center for Competitive Politics.
Senator Whitehouse's opening remarks laid out a grim picture for the enforcement of campaign finance law, considering over $6 billion was spent during the 2012 election :
This hearing will explore the mockery our campaign finance laws have become. With particular emphasis on what appears to be flagrantly false statements made with impunity in official documents... The false statements we look at relate, among other things, to section 501(c)4 of the tax code, which gives nonprofit status to entities that are quote 'operated exclusively to promote social welfare.'
Social welfare organizations like American Future Fund, Crossroads GPS, and American Action Network have pushed the envelope in terms of their support or opposition to candidates running for election. Sen. Whitehouse mentioned that 32 out of 72 501(c)4 organizations that filed with the IRS spent money for political purposes like paying for election advertisements.
As tax-exempt entities, social welfare organizations are not permitted to electioneer. Instead, the designation is intended to facilitate their role as promoters of a good society through education and civic involvement, not electing or preventing the election of a particular candidate, that job remains with Super PACs who are required by law to disclose donors.
The Federal Elections Commission is the primary federal agency responsible for ensuring compliance with federal election laws. Nevertheless, a myriad of instances have been reported wherein existing laws appear to have been broken with little to no rebuttal from regulators.
Though the FEC is primarily charged with enforcement, the Justice Department has other means by it can prosecute law breakers. When asked why the DOJ or IRS had failed to investigate any of the seemingly blatant violations, Raman responded:
"Without discussing ongoing investigations we can assure you that we are incredibly vigilant about the use of these organizations as an end run around contribution limits."
Similarly, Haynes added, "I don't have any information that i can share on a 501(c)4 related false statement case..."
Senator Cruz seemed less concerned about current laws being enforced and more interested in nondisclosure. He asked, "Does the Department believe that the First Amendment protects a right to anonymous political speech?"
Raman responded by assuring the Senator that the DOJ was not invested in undermining the First Amendment, but rather focused on prosecuting those who violate the law:
What I am suggesting is that there is a risk of bad actors using the anonymity that's given to them when they disclose to 501(c)4's to hide the true purpose of their donation and we need to be vigilant about that.
Later in the hearing, Noble, Colvin, and Smith testified, giving a non-government perspective to the issues at hand. Specifically, the Federal Elections Commission's role in regulating campaign spending.
Noble began by pointing out that new laws are not immediately necessary to solving the challenges confronting campaign finance integrity:
The reality is that the FEC, the Federal Elections Commission, the IRS and the Department of Justice are not enforcing the laws on the books and if they would enforce the laws on the books, a number of the issues that would go away or at least would be more manageable.
Cruz's main concern with the FEC was whether or not it could end up being used for partisan ends while prosecuting election misconduct. Yet, when operating at full staff half of the agency's six commissioners are either Democrats or Republicans, often preventing any action from being taken due to partisan disagreement. At the end of April all of the 5 existing commissioners will be serving expired terms.
Solutions to the non-enforcement problem remain far off in the distance. However, consensus from the second panel held that the FEC could be doing more to ensure that current campaign finance laws were enforced.
Though the idea eluded the hearing, instituting a nonpartisan, rather than a bipartisan commission would free the agency from the criticisms of partisan enforcement Sen. Cruz voiced concern for. Additionally, an odd number of commissioners would ensure that significant decisions, like interpreting what constitutes coordination between candidates and Super PACs, would be resolved quickly as opposed to what often amounts to months or years of delayed prosecution.
Fixing, or at the very least somewhat improving how the FEC operates was the key to ensuring long term election integrity, but in the meantime Sen. Whitehouse observed that the DOJ and IRS do have a role to play in holding law breakers accountable in court.