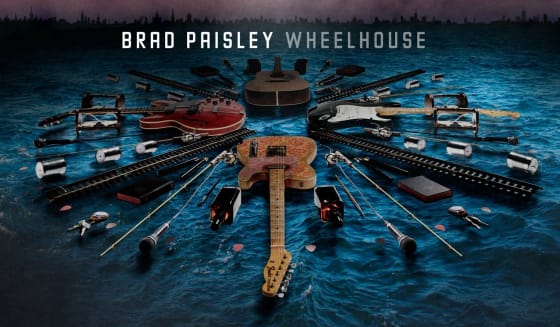 Country Star Brad Paisley released a new album Wheelhouse yesterday.  While that in itself is not newsworthy outside of Country Music circles, the song Accidental Racist from the album has drawn a lot of flak.  Paisley has received a lot of press regarding this song in the past few days, most of it negative.  However, the saying goes "there is no such thing as bad publicity" - and despite the bad press - I think that is once again the case.  More people are aware of his new album than were a week ago which could result in increased sales.  It is also touching a topic that still deserves a lot of discussion in our Nation.
Paisley has taken to Twitter  to defend this song, a collaboration with LL Cool J.  Below is an exchange he had with Michael Reagan, the son of former president Ronald Reagan:
Wow. RT @ReaganWorld: the world would not have heard The Evil Empire Speech or Tear Down This Wall Speech if my father would have...

RT @ReaganWorld: listened to the naysayers. He understood as you do, your audience is larger than those who point fingers.

RT @ReaganWorld: @BradPaisley Your song speaks the truth.

So,as you buy this album,I hope it triggers emotions. I hope you feel joy,heartache,triumph,surprise; you laugh,cry,nudge someone beside you

...I hope the album rocks you,soothes you,raises questions,answers,evokes feelings, all the way through until Officially Alive

'Cause I wouldn't change a thing. This is a record meant to be FAR from easy listening. But fun. Like life. Have a ball, ya'll. love- brad
It is interesting to note that LL Cool J, who also co-wrote Accidental Racist, seems to have avoided much of negative press and comments that Paisley has been receiving.  Perhaps that is because the media is focusing on the fact that a Caucasian male, in country music no less, is talking about racism...something that is rather rare.
Country Music is a genre that tends to focus on "what country is" along with relationships rather than bigger picture issues.  When an artist does tackle "issues" in their songs, they tend to focus on economic conditions, the plight of the "working man" and the decline of "small town life".  So this song is has created a bit of a spectacle in the issue it is trying to address.  in a recent interview with USA Today, Paisley claims this is exactly what he intended.  While the song may never be released as a single, he didn't "accidentally" record it - he wanted to convey a message to his listeners and to people across the nation.
Racism is far from the only "big" topic that Wheelhouse covers though.  Paisley also covers spousal abuse with a humorous twist in Karate (featuring Charlie Daniels).  In Those Crazy Christians he talks about religion, specifically Christianity, through eyes of a person who is not religious.
I am Brad Paisley fan.  I have bought most, if not all, of his albums.  I enjoy his songs and his take on subjects through his music.  I admire him for this collaboration with LL Cool J.  And while I think it is noteworthy that he is going out of his Southern Comfort Zone to address this controversial issue...I just wish the song was better.  The message is powerful if you listen to it, the music doesn't match the message though.  He is capable of performing great music and with Accidental Racist he comes up short in that endeavor.