Julius Genachowski (left) and Robert McDowell (right) // credit: arrl.org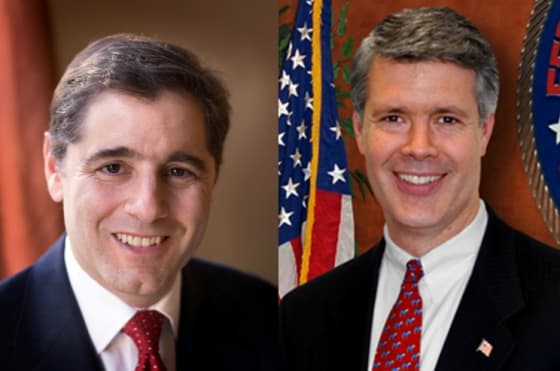 Julius Genachowski announced last month that he would be stepping down as the Federal Communications Commission chair. Robert McDowell, a Republican commissioner, will be leaving as well. The future of independent media will weigh heavily on how their replacements respond to key issues facing the commission.
The resignations come at a critical time as several federal court cases are under appeal. The outcome of which can dramatically alter the future of independent media outlets, both print and digital.
Media Consolidation and Diversity
A long-awaited decision before the commission may or may not allow large media corporations the right to own television and newspapers in the same market. Cross-ownership, or media consolidation across print, television, and online platforms, reduces the diversity of content produced in a given market.
The six largest media companies, Viacom, GE, News Corp, Time Warner, Disney, and CBS, are responsible for the significant majority of print, online, or television content inside the United States. Likewise, this consolidation has resulted in a lack of diversity in perspectives being offered to consumers.
This decision has been punted by the FCC several times over the last few months; meanwhile, media moguls like Rupert Murdoch, of News Corporation, have been eager to acquire an even greater share of the market -- specifically the Los Angeles Times, which owned by the Tribune Company.
However, News Corp already owns multiple television stations, KTTV and KCOP, in Los Angeles and is ineligible to acquire the newspaper under current law.
Overturning FCC rules for News Corp could result in many more media acquisitions by the top six companies. This can have potentially disastrous effects for smaller media players who could easily be bought out of dense markets without the FCCs rule in place.
Broadband Access and Net Neutrality
A lawsuit on a federal appeal from Verizon places net neutrality in the legal cross hairs yet again. Established in 2010 and hailed by Genachowski as one of the crowning achievements of his chairmanship, net neutrality requires Internet service providers (ISPs), like Verizon, AT&T, Comcast, and Time Warner Cable, to provide equal service to all web sites equally.
Net neutrality is a major issue for independent media outlets as they have little recourse should an ISP decide to throttle service to their website for covering unfavorable topics.
Verizon's argument in the case contends that net neutrality actually violates the company's right to free speech. Infringing on their ability to pick and choose what online voices are heard at their discretion.
Still, critics argue that argument holds little water, and encourage the next FCC chair to double down on net neutrality to protect an open and neutral Internet.
Who's Next?
Likely picks for the next FCC chair include either one of the current commissioners, Mignon Clyburn or Jessica Rosenworcel. Clyburn was a former publisher of The Coastal Times before becoming a member of the Public Service Commission (PSC) for South Carolina's 6th district. The PSC is the regulatory telecommunications agency for South Carolina.
Rosenworcel hails from the Senate Committee on Commerce, Science, and Transportation which oversees regulations passed by the FCC. Speculators have thrown a number of additional hats into the ring for new FCC appointments, but either appointment would mark the first female to head the agency.