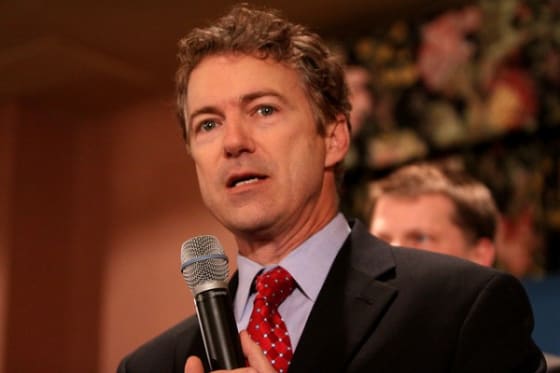 As the Defense of Marriage Act (DOMA) and gay marriage are debated before the US Supreme Court, an increasing number of politicians from both parties are shifting their positions on the issue.
Moderate Republicans from Senator Rob Portman to former Utah governor Jon Huntsman have made the Republican case for gay marriage. Prominent Democrats such as Bill Clinton, the president who signed DOMA into law, has also recently changed his mind on gay marriage. Pro-life Democratic US Senator Mark Pryor of Arkansas, who faces re-election in 2014, recently said, "put me down in the undecided category," regarding gay marriage.
As he prepares for the process of deciding to run for president, Kentucky US Senator Rand Paul is being peppered with questions on all sorts of policy positions. As polls of younger voters show an upward trend in support for gay marriage, pressure will likely increase for Paul and many other Republican office seekers to shift their positions.
When the Christian Broadcasting Network's David Brody went to interview Rand Paul recently, they discussed everything from his personal faith to social issues and war. Considering the audience of the interview, a conservative Christian network, Paul took what could be an unpopular stand: abandonment of the one-size-fits-all defense of traditional marriage.
The Senator offered some unique advice, federalism, for Christians and other worried about the state of marriage:
"We've always had marriage certificates and we've had them at the state level. If we keep it that way maybe we can still have the discussion go on without making the decision go all the way one way or all the way the other way. Because I think right now if we say . . . if we believe in a federally-mandated one-man, one-woman marriage, we're going to lose that battle because the country's going the other way right now. If we were to say each state can decide, I think a good 25, 30 states still do believe in traditional marriage, but maybe we can still win back the hearts and minds of people."
The US Supreme Court may very well strike down the Defense of Marriage Act. Senator Paul's position, which may not be entirely popular with the strongest social conservatives, offers a way to keep fighting the marriage battle while also giving them the opportunity to persuade others to come over to their side, short of government dictate.
Earlier in the interview, Paul also advised to Christian conservatives that it takes more than government to affect social and moral change, "It's important that people know that for the country to get better, it needs more than just politicians. . . . It needs a resurgence through churches, through revivals, through a spiritual cleansing of the people."